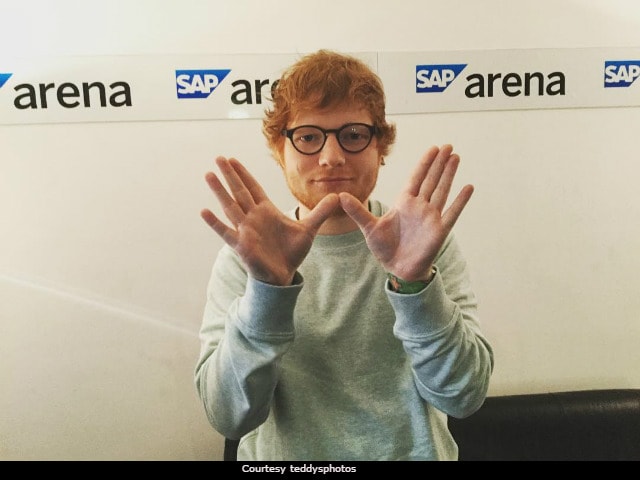 Highlights
Ed Sheeran as written one of Justin Bieber's most popular songs
Ed Sheeran too will perform in Mumbai later this year
Justin Bieber makes his debut gig in India tonight
New Delhi:
After
Justin Bieber's debut concert in India
,
it is Ed Sheeran
who is all set to perform in India. The
Thinking Out Loud
singer has a very busy schedule with his upcoming tour kicking off in three days from now. Ed Sheeran will take his entourage across continents throughout this year, arriving in Mumbai on November 19, revealed a new report on his
official website
. Earlier, the 26-year-old pop singer was supposed to wrap his Asia tour with a performance in UAE, Dubai, where his colleague, Justin Bieber, performed ahead of his Mumbai visit. The change in Ed Sheeran's roster for the world tour arrives on the day of the much-awaited Justin Bieber concert in Mumbai.
Extra shows have also been added to
Ed Sheeran's world tour
with additional performances in Tokyo, Hong Kong, Manila, Bangkok, Kuala Lampur and Dubai. Ed Sheeran's concert in Mumbai is scheduled for a Sunday and will be followed by one in Dubai on November 23. Meanwhile, Ed Sheeran's India debut will be preceded by a show in Bangkok.
Ed Sheeran has contributed to Justin Bieber's popularity - he wrote the song
Love Yourself
for Bieber, which went on to become crazy popular. Ed Sheeran has also performed his own rendition of
Love Yourself
at several concerts.
Meanwhile, Justin Bieber performed at D Y Patil Stadium in Mumbai on Wednesday. Justin Bieber's performance included songs like
Baby
,
Boyfriend
,
What Do You Mean?
,
Get Used to It
,
Company
and
No Pressure
.