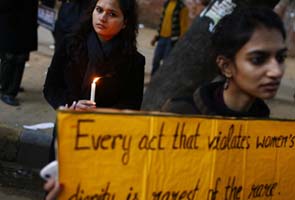 New Delhi:
A hundred days after India mourned the death of the medical student who was gang-raped and vowed to fight sex crimes, the torn clothes and tears of another woman bear testimony to a tide of violence that refuses to ebb.
She is one of the 812 women whom police say have been molested in New Delhi since the death of the medical student, who was brutally assaulted by six attackers in a moving bus on December 16 last year.
The student died in a Singapore hospital on December 29. The savagery of the attack triggered nationwide protests, prompting lawmakers to toughen punishments for sexual offences and pledge to make India safer for women.
Optimists called it a "turning point", while Delhi's under-fire top police officer said his force had been "jolted" and would institute "major changes in the way offences against women are dealt with".
The experiences of the woman, who carries the clothes she was wearing when she was assaulted, give reason to doubt whether the outpouring of anger from women across the country, many of whom took to the streets in some cities, will result in better protection.
She says her clothes were ripped by her husband and brother-in-law during an assault on her, she struggles to register a case at a south Delhi police station where no female officers are present - even though they are mandatory under the new anti-rape law.
"First, the men humiliated me and now when I come out to seek justice the cops insult me... some even suggested that I should make peace with my husband," she told AFP inside the police station in the Moti Bagh district of the capital.
In response to her shouts and cries, two policemen reluctantly register her complaint. She wants to publicise the problems women still face in registering such complaints.
Women currently make up only 6.5 per cent of India's police force and major recruitment changes will be needed to enforce the new sex crime law, which requires a female officer to record molestation and rape complaints.
This ruling risks going the way of so much legislation in India - well-meaning but mostly ignored in practice. Rights groups say real change will only come when widely held patriarchal and sexist attitudes change.
"I don't see enough initiative to change the mindset of the law enforcement agencies, especially the police," said Ranjana Kumari, director at the Centre for Social Research in New Delhi.
However, one consequence of the Delhi gang-rape is that women are more confident in reporting sex crimes, she says.
Delhi police reported a 148-percent leap in rape cases lodged between January 1 and March 24 compared with the same period in 2012, and a 600-percent rise in molestation cases reported up until April 3.
"Many women and families are becoming conscious and are coming forward to report abuse, but what is disappointing is that after a hundred days... rapes and all kinds of sexual offences are not stopping," Kumari said.
The Press Trust of India news agency has reported more than 250 rape cases across the country since the death of the Delhi gang-rape victim.
It's not just Indian women who have been targeted. A Swiss tourist was gang-raped last month while camping in central India, an offence that led to another flurry of negative headlines.
Many Western countries have warned female tourists to exercise caution in India, a move that has hit the tourism industry which earned over $16 billion from foreign travellers in 2011.
The family of the victim of the December 16 gang-rape are still in shock and the trial of the men alleged to have murdered her continues in court.
Lawyers have cross-examined 65 out of 80 witnesses, including the doctors who tried to save the victim before her death. The court is also expected to summon the victim's family.
One of the five men on trial for murder, robbery and gang-rape was found dead in his cell last month, having apparently committed suicide. The sixth suspect, a 17-year-old, is being tried separately in a juvenile court.
On April 1 the mother of the medical student who was gang-raped in Delhi held a small religious ceremony in memory of her 23-year-old daughter.
"I prayed for her and as a mother, I can tell you my daughter's soul will rest in peace only when the accused are punished," she said.
"She died, but she has give every woman the courage to fight against violence."
Get Breaking news, live coverage, and Latest News from India and around the world on NDTV.com. Catch all the Live TV action on NDTV 24x7 and NDTV India. Like us on Facebook or follow us on Twitter and Instagram for latest news and live news updates.