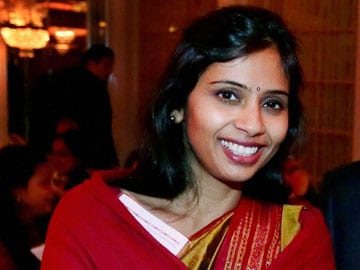 New York:
The legal battle over a diplomat from India, whose recent arrest in New York caused an uproar in her home country, took an unusual turn Thursday, when she was indicted by a federal grand jury in Manhattan, but was then allowed to leave the United States.
The envoy, Devyani Khobragade, was granted diplomatic immunity Wednesday by the U.S. State Department, which then asked India to waive the immunity, so that she could be prosecuted. That request was refused.
The State Department then told Khobragade to leave the country. The diplomat left by plane for India on Thursday night, her lawyer said.
(Devyani Khobragade gets full diplomatic immunity, flies back home)
Khobragade, 39, was arrested on Dec. 12 on a criminal complaint, charging her with visa fraud and making false statements in connection with her treatment of a domestic worker, Sangeeta Richard, who, prosecutors said, had been overworked and unpaid by Khobragade.
(Read:
Indian diplomat arrested in US for alleged visa fraud)
The indictment, handed up in U.S. District Court in Manhattan, charges Khobragade with the same counts, but it also accuses her and others of trying to "silence and intimidate the victim and her family and lie to Indian authorities and courts."
The decision by Preet Bharara, the U.S. attorney for the Southern District of New York, to seek the indictment indicated that negotiations to try to resolve the case through a plea bargain had broken down.
But the revelation that Khobragade had received immunity and had been told to leave the country suggested that a separate understanding had been reached with U.S. officials with the goal of relaxing tensions with India.
Khobragade's lawyer, Daniel N. Arshack, said his client was pleased that the State Department "did the right thing" by recognizing the diplomatic status "to which Dr. Khobragade has always been entitled."
"She is pleased to be returning to her country," he added. "Her head is held high. She knows she has done no wrong, and she looks forward to assuring that the truth is known."
Richard, Khobragade's former housekeeper, said in a statement issued through Safe Horizon, a victim services agency that had been representing her, "I would like to tell other domestic workers who are suffering as I did - you have rights and do not let anyone exploit you."
The indictment accused Khobragade of illegally underpaying Richard and exploiting her. It said that the diplomat had confiscated Richard's passport and never returned it. Richard worked about 94 to 109 hours a week, the indictment said, with limited breaks for calls and meals.
Last June, the indictment said, Richard visited Khobragade's office at the Indian Consulate and said she was unhappy with the work conditions and wanted to return home. Khobragade refused the request and would not return her passport, the indictment says.
Later that month, Richard finally left and turned to Safe Horizon, which helps trafficking victims.
Almost immediately, Khobragade and others took steps to prevent Richard from communicating with lawyers and others, the government charged.
The indictment describes a series of efforts to intimidate Richard and her family. It says Khobragade and a relative repeatedly called Richard's husband in India, pressuring him to disclose his wife's location in New York. Khobragade also took legal action in India against Richard. In November, based on a complaint by Khobragade, an arrest warrant was issued in India charging Richard with extortion and cheating.
Arshack has called the charges against Khobragade "false and baseless."
However, Bharara's office, writing to a federal judge Thursday, said that criminal charges against Khobragade would remain pending.
"We will alert the court promptly if we learn that the defendant returns to the United States in a no immune capacity," the prosecutors told Judge Shira A. Scheindlin, "at which time the government will proceed to prosecute this case and prove the charges in the indictment."
© 2014, The New York Times News Service