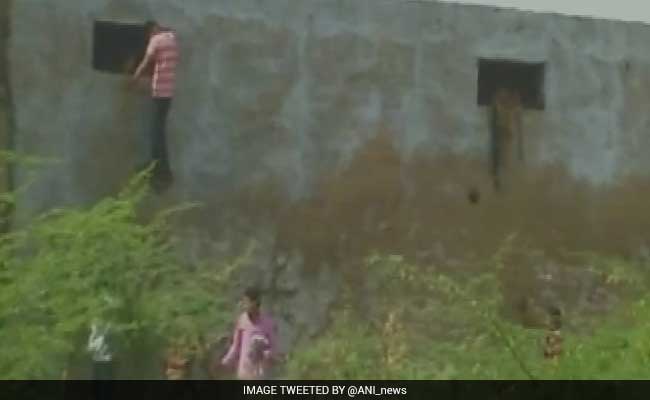 Highlights
Police cases filed against 4 exam centres, 111 centre directors
57 centres have been barred from holding exams
The board exams for Class 10 had started on March 16
Lucknow:
The government of Yogi Adityanath has cracked down heavily on cheating during the ongoing Class 10 board exams in Uttar Pradesh, not only taking to task a huge number of students and teachers, but also starting a toll-free number where complaints about cheating can be registered.
Over the last few days, the state government has filed police cases against four exam centres, 111 centre directors, 178 invigilators and 70 students. So far, 57 centres have been barred from holding exams and in 54 of them, exams were cancelled.
The board exams had started on March 16, three days before the government of Yogi Adityanath had taken oath of office. Out to meet the party's election promises at a record speed, the new government had immediately started crackdown on illegal slaughterhouses and had the police form "anti-Romeo squads" - Romeos being a loose term for youths who harass women.
Deputy Chief Minister Dinesh Sharma, who also holds the secondary education portfolio, has already held a video conference with District Magistrates, where he directed them to ensure that there should be no copying in the examinations. Yesterday, news agency Press Trust of India quoted him as saying adequate steps were being taken to eradicate the "nakal mafia" from the state.
Uttar Pradesh and Bihar have come in the headlines frequently for mass cheating. Last year, a group of students were jailed in Bihar after it was found that they had topped the board exam through unfair means. One of the students, Ruby Rai, who had scored the highest marks in political science, tripped herself up during a television interview when she said the subject was about cooking. Police said she had written the names of movies in one answer sheet, the name of poet Tulsidas more than a hundred times in another and poetry in others. These were then replaced by papers written by "experts".
In Uttar Pradesh, instances of mass cheating has been reported this year from various districts including Mathura, Aligarh, Agra, Hathras, Kanpur, Deoria, Faizabad, Gonda and Barabanki.