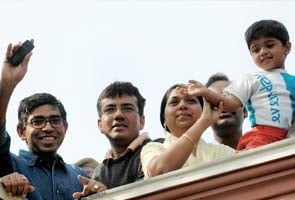 Noida:
A Noida court on Monday awarded life imprisonment to three people for the 2006 kidnapping of Anant Gupta, the son of Adobe CEO Naresh Chand Gupta.
Special Judge NK Srivastava found Chhatrapal alias Dev alias Chuttan, Pawan and Jitendra guilty under sections 364A (kidnapping for ransom), 368 (wrongfully concealing or keeping in confinement a kidnapped or abducted person) and 120B (criminal conspiracy) of the Indian Penal Code and imposed a fine of Rs 25,000 on each of them.
Four other accused - Ram Dayal, Santosh, Veer Singh and Sunil Kumar - were acquitted due to lack of evidence.
According to BR Sharma, counsel for the Guptas, the court examined 21 witnesses in all - 19 from the prosecution and two from the defence.
All the three convicts are currently in the Dasna Jail.
The Adobe CEO's son was kidnapped on November 13, 2006, while on his way to board his school bus accompanied by his maid, Seema. They were only 50 metres from the house, near a Mother Dairy kiosk, when two men, including main accused Chhatrapal, on a bike approached, snatched Anant and fled.
A First Information Report (FIR) was filed by Anant's mother as his father was not in India.
Chhatrapal then called up the guard of the house, posing as a police official and asked him about the conditions prevailing outside the Gupta house.
It was later learnt that Chhatrapal's father, at one time, was also operating the Mother Diary booth near their house. He was said to have obtained the details of the family from him through his brother Jitendra.
That same evening, Chhatrapal called up the family and demanded a ransom of Rs 50 lakh from Anant's mother. On hearing the news, Anant's father Naresh Gupta returned to India.
Chhatrapal had asked the family to send somebody to an isolated spot along the railway line in Mathura with the bag containing the cash. The packet was handed over to Chhatrapal and his men on the night of November 16, 2006, as per the instructions given by him.
However, the next day, as Chhattrapal and his men were returning, they were surrounded by a heavy police force in the jungles of Salempur Jaap in the Kakor area, forcing him to leave the child and flee.
Chhatrapal was eventually arrested November 19, 2006. But he escaped from police custody during a court hearing on February 4, 2008. He was again arrested on April 3, 2008.