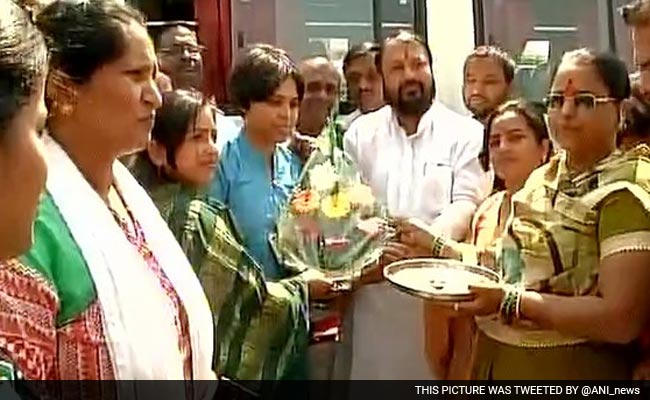 Pune:
Keeping up the campaign against gender bias at places of worship, around 150 women under the banner of Bhumata Brigade today left for the famous Trimbakeshwar temple in Nashik district in Maharashtra seeking to break the bar on female devotees at the inner sanctum of the Lord Shiva shrine.
The outfit led by Trupti Desai had on January 26 made a high-voltage attempt to breach a similar ban at the Shani Shingnapur temple in Ahamednagar district but vowed to carry on with its campaign for gender justice.
Choosing the occasion of Maha Shivratri to resume their campaign, the outfit urged the authorities not to block them as they had done during the earlier march.
The ancient temple in Trimbak town, located 30 km from Nashik, houses one of the 12 Jyotirlingas. The shrine has been turned into a fortress in view of the country-wide terror alert and also because of the flow of lakhs of devotees on account of the festival of Maha Shivratri.
Ms Desai, president of Bhumata Brigade, who left Pune with nearly 150-175 activists as part of her plan to push for entry of women into the "garbhagriha" (sanctum sanctorum) of the temple, urged Chief Minister Devendra Fadanvis to make sure that their members are not detained on the way, as the authorities did during the earlier campaign.
"Since Chief Minister had supported us on the Shani Shinganapur issue, we hope that we are not stopped today and will be allowed to enter the 'garbhagriha'," Ms Desai told PTI.
"Also, since a high alert has been announced, Nashik Police had requested us not to come in buses. Hence we are going by small vehicles. We have even reduced our women members and there are only 150-175 women, who will try to enter the sanctum in a peaceful manner," Ms Desai said.
She also expects police to lead them to the sanctum under complete "bandobast" in order to avoid a law and order situation.
"On this auspicious day, we feel that the local administration will allow us inside the inner chamber of the temple and if we are restricted, it would be an insult to women on the eve of International Women's Day and on the day of Maha Shivratri," said Ms Desai, who left for Nashik this morning.
Nashik Rural Police tightened security around the temple in the pilgrimage town to avoid a face-off similar to what happened at Supa village on January 26, when the women activists were proceeding towards Shingnapur.
"We have deployed extra police force and also put barricades to restrict activists of Bhumata Brigade with a view to maintain law and order of this small town," Deputy SP, Praveen Munde said.
Meanwhile, right-wing organisations including Mahila Dakshata Samiti, Sharada Mahila mandal, Purohit Sangh and others have came together and decided to stop the activists before they reach the temple.