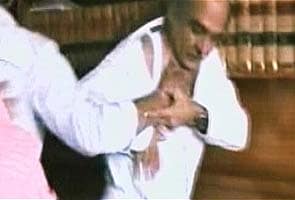 New Delhi:
Prashant Bhushan, a core member of Team Anna, was assaulted on Wednesday at his chamber in the Supreme Court.
Three people reportedly stormed into Mr Bhushan's chamber and began beating him while he was in the midst of a TV interview. Mr Bhushan was slapped and kicked. He fell to the floor, his glasses fell near him, and his shirt was torn before other lawyers rushed in to help him.
The police have arrested one of the assaulters. The others managed to escape.
Mr Bhushan has been taken to hospital for a check-up. "They were saying that I have made some comments on Kashmir to which they were taking objection. I have said that a referendum should be held in Kashmir," he said.
Mr Bhushan also said the attackers told him they belong to the Sri Ram Sene - a right-wing Hindu extremist group which shot into notoriety in 2009 after its activists attacked young women at a pub in Mangalore.
On Facebook, a page for the Bhagat Singh Kranti Sena claimed responsibility. "We hit prashant bhushan hard in his chamber in supreme court," a post declared. As he was led away, the assailant who was arrested said they had gone to talk to Mr Bhushan about a position he had taken on the Kashmir issue. "We will not let anyone insult our martyrs," he said. The man, who said his name was Inder Verma, is being questioned at the Tilak Marg police station. The other two, Tejinder Singh Bhulla and Vishnu Gupta, are at large.
The Bhagat Singh Kranti Sena is a self-proclaimed "task force against traitors, anti-nationals and the corrupt". They also claim they are "a team of guys who are crazy for the nation and those who can do anything for the nation."
In Maharashtra, Anna said, "This is not acceptable, what happened to Prashant Bhushan, the way he was attacked...to take law and order into one's own hands is wrong. I pray to God to give better sense to the sort of people who led this attack. This is not our culture."
(Watch)
Mr Bhushan's father, Shanti Bhushan, said, "My son is fearless. He will always act on his conscience."
"Because of that if someone thinks that Prashant Bhushan will leave his work, then they are wrong. As he is not that sort of a person. He won't leave his work because of fear", he added.
Home Minister P Chidambaram has condemned the attack and sent a representative to meet Mr Bhushan at hospital. He also discussed the attack with Delhi Police Commissioner BK Gupta.
Meanwhile, Congress General Secretary Digvijaya Singh claimed one of the three men who attacked Mr Bhushan was a youth worker for the BJP. The BJP, immediately, denied the charges. (
Read: Digvijaya links Bhushan attack to BJP which dismisses charge
)
The incident is provoking a wider debate on security at the Supreme Court. After a huge blast which killed 15 people at the Delhi High Court on September 7, the Chief Justice of the Supreme Court, SH Kapadia, had asked for better security arrangements.
The three men who hit Mr Bhushan had allegedly entered his office claiming that they had an appointment with the lawyer.
Mr Bhushan has been at the centre of Anna Hazare's anti-corruption movement which is campaigning for a strong Lokpal Bill to counter graft. The Lokpal Bill provides for an independent agency which will be empowered to investigate complaints of corruption among government servants.