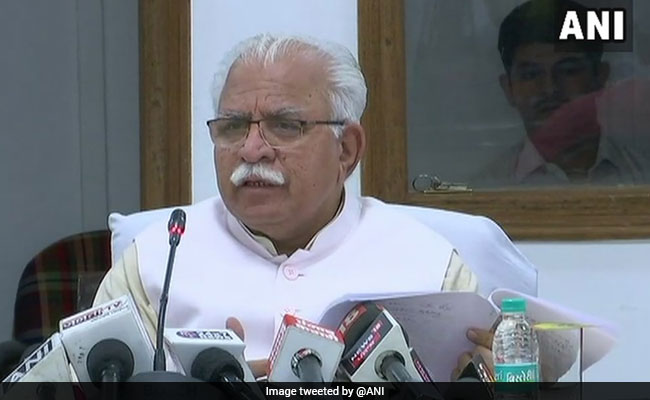 Chandigarh:
The AAP has thrown a challenge to the state's BJP government - it will give Rs 1 lakh to any minister who reads out the party's 2014 election manifesto in public.
The Aam Aadmi Party seemed to suggest Wednesday that the ministers will be too embarrassed to remind people of the promises made in the BJP manifesto.
"We know they cannot read out their election manifesto in public because they have not fulfilled any promise," AAP's Haryana convener Naveen Jaihind told reporters.
"If the chief minister, his ministers or any BJP leader can muster the courage to read out their party's poll manifesto while being amongst the public, we will give them a cash award of Rs 1 lakh," he said.
The state's Bharatiya Janata Party government led by Manohar Lal Khattar completed four years in office four days ago.
Mr Jaihind claimed AAP national convenor and Delhi Chief Minister Arvind Kejriwal's recent visit to Haryana exposed the "bad shape" of the schools and primary health centres in the state.
"Mr Khattar has turned out to be the weakest chief minister in the state's history," he said.
"While Chief Minister Khattar spends crores of rupees on his air travel, he seems to have lost touch with the situation on the ground," Mr Jaihind said.
"He has failed to control the worsening law and order situation including the growing crime against women. Employees are on roads today, but the CM seems to care less about the situation," he said.
"Every section is fed up with this government," the AAP leader claimed.
Mr Jaihind presented a "report card" for various ministers, claiming they had failed to deliver results.
Taking a dig at Health Minister Anil Vij, Mr Jaihind said, "While the state of primary health centres in state is bad, the minister finds ample time to tweet on every other issue."
He also criticised Education Minister Ram Bilas Sharma.
Mr Jaihind said ministers, MLAs and MPs from the ruling party should get their children admitted to government schools and get treatment from its health centres to understand the people's sufferings.
He also criticised the state government for failing to accept the "genuine demands" of the roadways employees, who have been on strike since October 16 to protest against state government's decision to run 700 private buses.