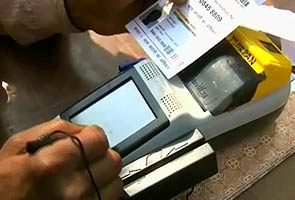 New Delhi:
The Supreme Court last week rejected the Centre's plea to modify an interim ruling that the Aadhaar or the Unique Identity Card is not mandatory for essential services. The court's order came on a day the Cabinet approved the National Identification Authority of India Bill that will give legal backing to the UID. The Bill may be tabled during the winter session of Parliament. The tussle means unsuspecting people are caught in the crossfire.
While the Supreme Court maintains that Aadhaar must not be mandatory, in reality, many government services are linked to the card, virtually making it compulsory.
And it's exactly this confusion over the need for Aadhaar cards that have thrown people into a quandary. "The government has connected everything with Aadhaar. Ration card needs Aadhaar. Bank accounts need it and even in school they ask for it," Kausalya, a resident of Seemapuri in New Delhi, said.
The fear of losing out on the much needed welfare schemes like ration and subsidised cooking gas has meant that many across Delhi have got their Aadhaar cards made. But for those who still haven't, the struggle seems endless.
Begum, who stays with her husband and two children in a slum colony in north Delhi, has been waiting for seven months to get her Aadhaar card. Without it, she has to continue to buy ration at market prices as she has been turned away from the public distribution centres that ask for the unique ID number.
The state government maintains that Aadhaar card is a good bet to ensure effective delivery of services. "The Supreme Court order is interim. Aadhaar is needed to make sure people who need the services most get it," Minister for Food and Civil Supplies Haroon Yusuf said.
Parliament still needs to give Aadhaar its legal sanction, but till then, the current confusion means the 12 digit identification number could make the crucial difference between entitlement and deprivation.
Get Breaking news, live coverage, and Latest News from India and around the world on NDTV.com. Catch all the Live TV action on NDTV 24x7 and NDTV India. Like us on Facebook or follow us on Twitter and Instagram for latest news and live news updates.