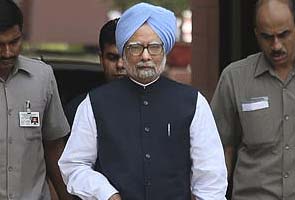 New Delhi:
The Prime Minister today, when asked about whether he would accept a third term if his party is re-elected, said "it a hypothetical question, and added, "I am not ruling it in...I am not ruling it out."
Dr Manmohan Singh also said he would welcome Congress Vice-President Rahul Gandhi as Prime Minister, and said Mr Gandhi's televised and closely-scrutinised speech to industrialists yesterday was "excellent".
In a rare address, followed by a Q and A session, Mr Gandhi had said that questions about whether he will agree to become Prime Minister, if the chance arises, are "irrelevant" and "all smoke."
The Prime Minister was speaking today to reporters on the sidelines at the Padma Awards which were distributed this morning in Delhi to cricketer Rahul Dravid, actors Sharmila Tagore and Sridevi, among others.
As the country heads for national elections, speculation has been growing about whether the battle between the Congress and the opposition BJP will centre on a face-off between Mr Gandhi, who is 42, and Gujarat Chief Minister Narendra Modi.
Neither has been declared their parties' prime ministerial candidates; both are expected to be the face of their parties' campaigns.
But last week, Dr Singh, when asked if he would return to office should the Congress win a third term, said the decision would be taken at a later time. He is 80.
Dr Singh was dismissive of allegations that the dual power centre in his party - with Sonia Gandhi as president and himself as head of the government - have weakened the Congress, a suggestion made by Congress leader Digvijaya Singh that was refuted a few days ago by a party spokesperson.