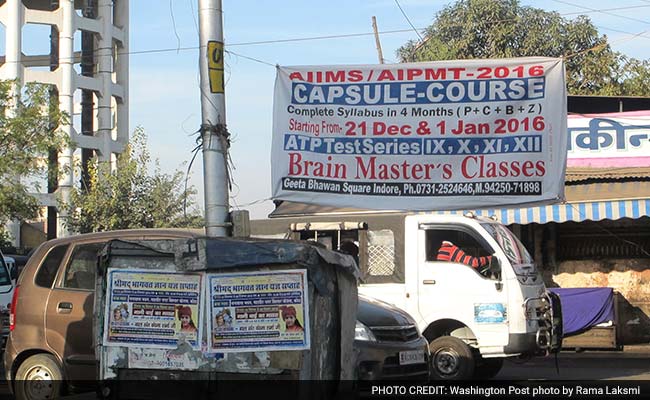 Kota, Madhya Pradesh:
Shivdutt Singh left his tiny village of wheat and barley farmers last summer with a dream of becoming the first doctor in his family.
Singh, 20, traveled more than 300 miles from the village of Kolari to Kota, a buzzing city in the northern Indian state of Rajasthan where students from all over the country come to cram for entrance exams to India's highly competitive engineering and medical colleges.
More than 160,000 students from across India flocked to Kota's schools last year, feeding the town's reputation as the nation's capital for test preparation. But grueling study schedules, frequent testing and round-the-clock stress are taking a deadly toll.
More than 70 students have committed suicide in the past five years in Kota, including 29 just last year - a rate much higher than the national average of 10.6 suicides per 100,000 people in 2014, reported by the National Crime Records Bureau. Students in Kota have hanged themselves, set themselves ablaze and jumped from buildings.
Two weeks ago, Singh became one of them. He had studied nonstop for six hours in his dorm room. He even called a cousin with a biology question.
But then he locked the room and hanged himself from the ceiling fan. He left a note: "I am responsible for my suicide. I cannot fulfill papa's dream."
"He was very excited. We used to tease him by addressing him as 'Doctor,' " said his father, Mangal Singh, 52. "But after a few months, he began panicking. He was studying all the time, slept very little."
Educators at the private test academies say they can't explain the rise in suicides, but they concede that the intense pscyhological pressure is real.
"Students are under a constant state of anxiety here. They are unable to study, concentrate, remember, sleep or eat. They complain of headaches and breathlessness. Many just weep in front of me," said Madan Lal Agrawal, a psychiatrist in Kota who ran a help line for students for three years. "They feel guilty because their parents have spent so much money and have high expectations. Parents often impose their own unfulfilled ambitions on their children."
"Daddy, I hate maths," one student wrote in a suicide note last year. "I am a good-for-nothing son," another wrote with a frowny-face.
Police in Kota blame the news media for hyping the incidents and prompting copycats.
Officials ordered coaching schools to appoint counselors, organize special "fun" days in classrooms and quickly refund fees to students whodrop out.
"We have also told coaching schools to conduct screening tests to determine if students are really capable of scoring in Kota," said Sawai Singh Godara, the superintendent of police.
The police have also told the schools not to send results of bimonthly tests to parents via text message.
"This keeps the students on the edge all the time. The parents keep calling them to scold," Godara said.
Rising middle-class aspirations, parents' unrealistic ambitions for their children, poor teaching standards in schools and a fiercely competitive college admissions race have spawned a $400 million test prep industry here.
Kota, an unassuming city with a population a little over a million, had only a handful of private math and science tutors twenty years ago. But so many private schools have opened that studying in Kota has become almost an essential rite of passage for many seeking admission to India's top colleges. Aspirants come and study from three months to two years.
Many dream of winning admission to the exclusive Indian Institutes of Technology, 16 public colleges whose graduates are lapped up by global companies that offer fat salaries. Graduating from one of the IITs, considered the Ivy League of engineering education in India, is a ticket to an elevated social status and a sure shot for a job in a top tech company in India or Silicon Valley. Google chief executive Sundar Pichai is one of IIT's most famous graduates.
Every year, about 1.5 million students take the entrance exam. Fewer than 10,000 are accepted.
The test prep industry has also motivated modest families from smaller towns and villages to aspire to prestigious colleges, which until about a decade ago were largely the reserve of the elite from big cities. In the past two years, sons of a railway station baggage handler, a truck driver and a cycle rickshaw driver studied in Kota and made it to top engineering and medical colleges.
"All around Kota, the message is to excel, or be left behind," the Times of India newspaper wrote Sunday.
Kota's skyline is dotted with billboards featuring the faces of students who aced their entrance tests, instead of the usual supermodels and Bollywood stars. The best teachers are mini-celebrities. Students have created individual vision boards that hang on the walls in their dorm rooms where they write down life goals to keep them focused, but there is no television, Internet or Facebook. The wall of the biggest Hindu temple in town is scribbled with pleas from students who have come to ask for college acceptance.
"If you come to Kota, you should be ready for the pressure. After all, if you plan to participate in the Olympics, you know it won't be easy," said Ritesh Dahiya, who runs a center called Potential 2 Kinetic, which teaches students to listen better in class, to retain information and to manage time. "I teach them how to manage stress, because you cannot get rid of it in this town."
The top bureaucrat of Kota sent an open letter to students this week saying, "Life is beautiful." He urged them to "watch the rivers flow" and "see the squirrels," because "clearing an exam or two is not everything."
Last week, local authorities ordered the schools to hold a surprise "fun day" to help students let off steam. Teachers and students sang, danced, did breathing exercises and laughter therapy, said Nitish Sharma, a senior executive at Allen Career Institute.
But some students skipped the fun.
"They are a waste of time. My most prized possession is my watch because it reminds me that wasted time is not coming back," said Ojas Thakur, 16, who wants to study space engineering at IIT. "I avoid friends who go to malls and movies, or are on WhatsApp."
His roommate has a note on the wall that says, "Formula to crack the code" next to a note that says, "Remember to drink water." Thakur's day schedule on the wall ends with: "Good night, if sleepy. If not, then study."
The biggest stresser is the batch-shuffling system. If the bimonthly test scores are low, students suddenly find themselves moved to a group with low-scorers and mediocre teachers. The best teachers go to the top groups.
Two years ago, Ashutosh Kumar came to Kota from Lucknow, a city in the north, with what he calls a "winner's stride."
"But soon, my confidence dipped," Kumar, 20, said, his hands trembling. "Everybody in the classroom is super smart and so competitive. I got pushed down to a much lower batch."
Now, Kumar skips classes frequently or sits in the last row, away from the teacher's gaze. He is taking anti-depression pills. He feels trapped. Going home does not appear to be an option.
"How do I tell my parents that I can't do this anymore?" he said.
Two weeks after losing his son, Shivdutt Singh's father is still grieving and does not know whom to blame.
"Is it wrong to be ambitious? My son wanted to make the village proud by becoming a doctor," Singh said. "Every parent wants their child to become something big one day."
© 2016 The Washington Post