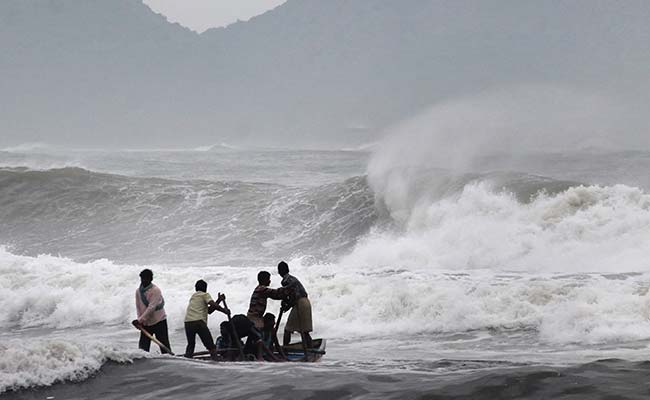 Dhubri:
The cyclones that tear through India with increasing frequency often leave devastation in their wake. But sometimes they can also bring benefits, as the fishermen in India's lower Assam districts of Dhubri and Goalpara have discovered.
In October, Andhra Pradesh and Odisha were hit by the deadly Cyclone Hudhud. The next day, fishermen hundreds of kilometres away in Assam noticed the Brahmaputra river teeming with hilsa fish, in far greater numbers than usual.
This had happened before. A year earlier, after Cyclone Phailin struck India, thousands of families dependent on the fishing trade found their fortunes turned when the storm drove huge numbers of hilsa to the Dhubri area from the Bay of Bengal.
"The hilsa fish by nature keeps away from rough waters," said Haren Das, a fishery officer forDhubri district. "So when cyclones occur, groups of these fish migrate to safer areas, including the Brahmaputra."
Some fishermen said their daily catch was almost 10 times bigger than on a regular day.
Nur Islam, a 45-year-old fisherman from Dhubri town, usually can catch 100 kilograms of hilsa in a day. After Hudhud struck India, he was able to catch up to 2,000 kilos a day with little difficulty.
"Earlier I never had a bank account because I was never able to make any savings," said Islam. With the fish bonanza, however, "I have been able to save almost Rs 45,000 ($700) and I will deposit it in the bank soon."
Another Dhubri fisherman, Hemchandra Das, said he felt like he had won the lottery. Thanks to the hilsa surge, he was able to make enough money to rebuild his dilapidated home and deposit some savings in the bank.
For fishing families in Dhubri and Goalpara, the sudden rush of hilsa fish that follows India's cyclones is reason to celebrate. For the people who sell the fish on the retail market, however, it is a complication.
In normal circumstances, a kilogram of hilsa could sell in the retail market for up to Rs. 800 ($12) during festive seasons, when the fish is most popular.
But in the period after the Phailin and Hudhud storms, the sudden availability of the fish pushed the market price as low as Rs. 100 ($1.50) per kilo. Even at that price, retailers were sometimes left with piles of unsold, rotting fish.
The fish traders lay much of the blame on the fact that there are no cold-storage facilities in the markets.
"Thousands of people living here who are associated directly or indirectly with fishing activities have benefitted from the increase in hilsa after the cyclones," said Haren Das, the Dhubri district fish officer. But afterward, he said, "everything will be like it was before."
© Thomson Reuters 2014