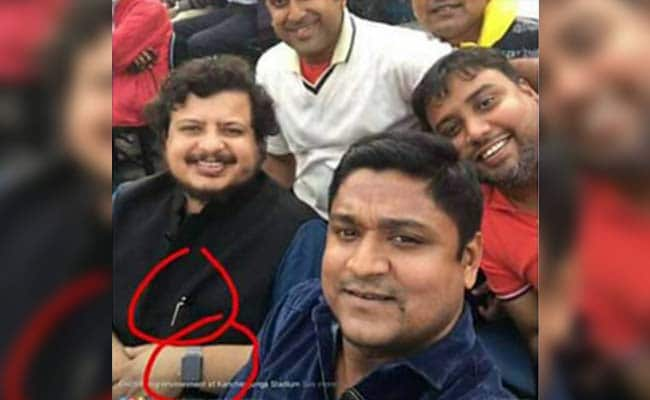 Highlights
Ritabrata Banerjee clicked at football match with expensive watch, pen
MP complained to employer of person who posted photo on social media
Amid outrage, CPM says it is considering action against lawmaker
Kolkata:
A Left parliamentarian in Kolkata is in the soup after going for a football match in which he was photographed with a Mont Blanc pen and an Apple watch. But what he did in response to photos on social media has earned him even worse condemnation.
Such is the outrage within his party CPM that its Bengal unit is planning action against him.
On February 12, Ritabrata Banerjee went to see a Derby face-off between football giants Mohun Bagan and East Match. He was clicked by fellow football fans, smiling and cheering for his team from the stands.
The smile probably vanished when the photograph surfaced on Facebook with two accessories encircled - a Mont Blanc pen and an Apple watch. How can a CPM MP afford such expensive items, asked the caption.
As the post went viral, a rattled Mr Banerjee made a bad situation significantly worse by tracking down the person who had posted the photo and writing to his office demanding action against him. "An employee in your company is making hate speeches against me," he wrote, and threatened a police complaint.
The backlash was instant on social media as some compared Mr Banerjee to Chief Minister Mamata Banerjee, who sent a professor to jail for forwarding a cartoon lampooning her.
The CPM, which swears by austerity, has said nothing in its parliamentarian's defence; the party's Lok Sabha MP and Politburo member Md Salim said, "Social is a public platform where anyone can post any opinion. To threaten anyone for that is not acceptable. This is definitely not expected of a Left MP."
Asked whether the allegations against Mr Banerjee figured in the Politburo meeting in Delhi that ended yesterday, CPM general secretary Sitaram Yechury told a press meet, "the matter has already been raised with us even before the Politburo meeting. The West Bengal state committee of which Comrade Ritobrata Banerjee is a member... his primary unit is West Bengal State Committee... West Bengal State Committee has disapproved of the action that he has taken."
Sources say Mr Banerjee, after being pulled up, has told the party he has written again to the company to whom he had earlier complained. He explained in the letter that his complaint against their employee was based on a misconception. That misconception had now been cleared and he was withdrawing his complaint.
The company has acknowledged his letter.