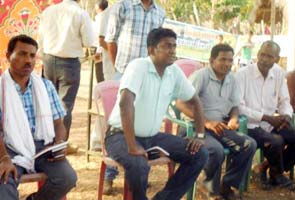 Chennai:
There was something very warm about Alex Paul Menon that gave me the feeling that we were buddies from our diaper days when he first sent me a message on Facebook. It was a simple, polite introduction accompanied by a friend request. Having given the Civil Services Exam a shot and sans the customary 'sour grapes' syndrome (!) I always look up to those who make the cut in this fiercely competitive three tier test. That this young officer, from Tirunelveli in Southern Tamil Nadu was full of idealism was more than evident in the story ideas he shared with me, that I passed on to my Headquarters. Honestly, when I come across such talent and drive, I have no regrets for not getting those three letters after my name. Because, I know better guys earned it.
Alex and I used to ping each other for a chat now and then. And what a minuscule world we live in! His fiancee - Asha, better known as Pushpa Bhagyam, was a classmate of my sister in law Kavitha Subramaniam at the MBA programme in the Madras University. Asha had participated in one of my live debates a couple of years ago. A bright spark, like her Prince Charming! Alex jogged my memory a bit with a "now that you know us both, you must come to our wedding" invitation on Facebook. I promised to be there; but in the rough and tumble of breaking news, you often miss out on such things in life. And Murphy's Law took over.
When I got the news from the Assignment Desk on Saturday evening, it felt like a personal setback. I logged into Facebook and there were already posts on Alex's wall. In hindsight, it's not a good idea to disable wall posts. Here, thanks to this tool, family, friends & well wishers, even his school alumni group, were able to share and collate whatever little information was trickling in. From a Free Alex Paul Menon page to personal accounts like this one from Suhasini Ayer : "I have been working with Alex; the collector of Sukma, Chhattisgarh on a land use and development plan for the district that is environmentally sensitive with the participation and consultation of the local people. His first priority is to bring health services, education and meaningful livelihood to the area", the abducted officer's Facebook page is just a small barometer of his popularity.
I had Alex's mobile number and his wife Asha's Chennai number stored as 'Pushpa Bhagyam'; both were understandably switched off. A post on his wall seeking contact details of his relatives in Tamil Nadu and direct messages to his wife and a couple of mutual friends like Kavitha Ramu, Nagarajan and Sundar Lakshman worked like magic. Kavitha, a Tamilnadu officer texted a number of his father in law in Chennai. The next thing I knew was that our office driver Sam seemed hellbent on proving that he is a fan of Michael Schumacher! Mylapore to Mogappair West with the 'one way' chaos in half an hour was quite something!
The scene at the Venugopalans home in Nolambur in Central Chennai was justifiably tense but in control, when cameraperson Edwin, Engineer Suresh and I reached a couple of hours after the kidnapping. A retired Chief Engineer at LIC, Venugopalan made an emotional appeal to the abductors to release his son in law. As I finished my interview, a cop friend - Tamil Nadu IG Intelligence - Amaresh Pujari, called on my mobile. On my request, I passed on the phone to Venugopalan who was suitably relieved to get a dose of hope and confidence from the IG.
Asha is in the family way; 6 months away from her due date. And has been associated with NGOs, fully immersed in social work. She was supposed to attend the convocation at the Madras University for her MBA degree on Saturday - the day Alex was kidnapped; but had decided to skip the function as she was indisposed. Imagine a new bride; away from home, in a Naxal infested area, just 7 months into her marriage, 3 months into her pregnancy, coming to terms with the fact that her husband has been abducted by Naxals after the gunning down of his security officers. It takes rare courage, maturity far beyond 24 years and amazing grace and dignity to conduct herself the way she has. This young lady is clearly made of sterner stuff. "I am sure he will be back soon. I miss him", she wrote a message to me on Facebook but seemed concerned about how her husband would manage without enough medicines for asthma. I've seen such courage in films like
Roja
. Now I'm seeing this in real life.
Alex did not join the Civil Service for the trappings of power. Not many are aware that he was first selected for the Indian Revenue Service. That would have meant city postings and what many consider a 'cushy life.' But his heart is in rural service and development. Which is why he went through that gruelling exam all over again and made it to the IAS. Allotted the Chattisgarh cadre, Alex is a hands on officer. Despite an intelligence warning, he placed duty above his personal safety; even going on a bike to remote parts of his district. When the Naxals who had surrounded the car shouted "Who is the Collector?", an unruffled Alex stepped aside and identified himself. That's a leader. A pro-development, pro-poor officer, a simple middle class young man who made it on his own steam, a father in the making. There is zero reason for a man like him to be away from his family and the people he is meant to serve.
I'm sure Alex, like most Tamilians, is a Rajinikanth fan. To quote a dialogue of the superstar from the film 'Basha' "God will test good people but never let them down." I'm praying for my friend to be set free soon. And I'm waiting for him to ping me again.