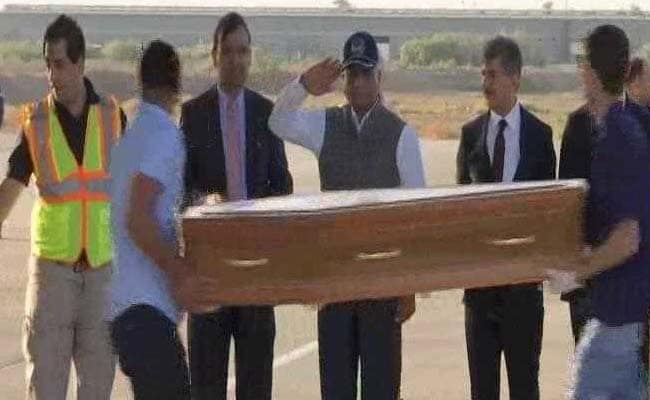 New Delhi:
Union Minister VK Singh, who on Monday brought back the bodies of 38 of 39 Indians killed in Iraq by a special aircraft, has said that the workers had travelled there illegally so the government had no record of them and couldn't help them.
The minister said had the government any information about these people being in danger, it would have rescued them, as in the case of over 45 Indian nurses rescued in 2014.
The Indian workers, missing since 2014, were killed by the ISIS
in Mosul, Foreign Minister Sushma Swaraj told parliament last month. One man escaped pretending to be a Muslim from Bangladesh; he claims that he saw his comrades being executed by the terror group.
The opposition has attacked the government and Sushma Swaraj and accused them of misleading the nation on the state of the Indians. Last year, the foreign minister had asserted that the Indians were presumed safe until any evidence to the contrary.
Of the 39 Indians, 27 were from Punjab, four from Himachal Pradesh, six from Bihar and two from West Bengal.
Speaking to reporters at the Amritsar airport, General VK Singh, the minister of state for external affairs, admitted that "this isn't the time to raise the issue" but said: "It is a fact that they went there through an illegal agent".
He said there was no record of the 40 workers in any embassy.
"I want all the Indians go abroad legally. Besides, they should go safely and with proper training," he said.
Asked how they were killed, General Singh, a former army chief, said that some of the persons were killed by bullets. "When tests were conducted (on mortal remains) it was found that some persons were killed by bullets and however, in some cases, it is very difficult to say as to how they were killed," he said.
The minister has been criticized for his sharp retort
when questioned about compensation for the grieving families.
"
Yeh biscuit baantne wala kaam nahi hai, ye aadmiyon ki zindagi ka sawal hai, aa gayi baat samajh mein? Main abhi elaan kahan se karoon? Jeb mein koi pitaara thodi rakha hua hai
(This is not like distributing biscuits, this is about the lives of the people. Understand! How do I make the announcement now, I am not carrying anything in my pocket)," General Singh snapped. On jobs for relatives of the workers, the minister said "this is not a game of football."