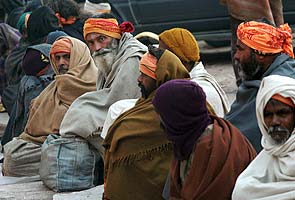 Lucknow:
The intense cold wave killed 34 more people in Uttar Pradesh, taking the toll to 233, with the mercury dipping to sub-zero levels in at least five districts of the state.
Reports reaching Lucknow said that five people died due to to the chill in Deoria, four each in Ghazipur, Kushinagar and Maharajganj, three each in Ballia, Rae Bareli and Etah, two each in Bijnore, Mirzapur, Chandauli and one each in Bahraich and Hathras.
Met office sources in Lucknow said that mercury fell to sub-zero levels in Gorakhpur, Bareilly, Ghazipur, Kanpur and Lucknow and the minimum temperature was around ten notches below normal.
Gorakhpur and Ghazipur with minus one degree were the coldest places in the state (-10 and -9 respectively) followed by Lucknow with minus 0.7 (-8), sources said adding that Kanpur which was the coldest place in the state yesterday registering minus 1.1, however ,was fractionally warmer with minus 0.4 (-7) and Bareilly minus 0.1 (-8).
Though the state capital Lucknow on Wednesday experienced sunshine giving some respite to the people, the overall weather continued to be cold because of freezing winds.