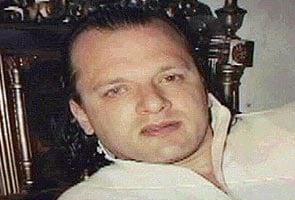 New Delhi:
A court in Delhi today accepted a chargesheet filed by the National Investigating Agency or the NIA against Pakistani-American David Coleman Headley and nine others in connection with the 26/11 Mumbai terror attacks case.
According to Ahmed Khan, the lawyer for the NIA, a letter rogatory will also be sent to Morocco requesting the government to grant NIA permission to question Headley's Moroccon wife.
"Court has taken cognizance of the NIA chargesheet, now our case against Headley stands," Mr Khan said.
Non-bailable warrants will reportedly be issued on March 13 against other people named in the chargesheet, including Major Iqbal and Ilyas Kashmiri .
The NIA, in its chargesheet filed in December last year, has accused Headley, his Pakistani-Canadian accomplice Tahawwur Rana, Lashkar-e-Toiba founder Hafiz Saeed and seven others of plotting the criminal conspiracy of 26/11 Mumbai terror attacks.
With its chargesheet being accepted, the NIA can now seek Headley's extradition to stand trial in India.
Both Headley and Rana are currently in the custody of US authorities. So far, the NIA has got only limited access to Headley, who entered into plea bargain with the US to escape a harsh sentence. He had conducted recce of 26/11 targets for the Lashkar-e-Toiba, which carried out the attacks in Mumbai on November 26, 2008. At least 166 people were killed in the attacks. This included many foreign nationals.
Rana was convicted by a court in Chicago for helping Lashkar-e-Toiba in a plot to attack a Danish newspaper. However, he was acquitted of federal charges that he aided the terrorists who carried out the attacks in Mumbai.