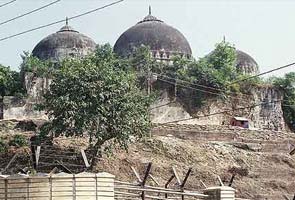 Faizabad:
Twenty years after the demolition of the Babri Masjid, Ayodhya and Faizabad look frozen in time. The demolition may have been the most polarising dispute, but what has grown stronger is the resolve of the people to ensure that a repeat of 1992 never happens.
Not far from Ayodhya, barely 10 kilometres away lives 76-year-old Mohammad Sharif. He has cremated and buried more than one thousand Hindus and Muslims. By setting a unique example, his efforts have only brought the people of both the communities closer.
Sharif Chacha, as he is famously known here, says it was his son's death that gave him a new mission in life. "I had a 22-year-old son Mohammad Raees. I had big expectations from him. About 20 years ago, he had gone to Sultanpur. Somebody killed him there, his body was stuffed his body in a gunny bag and dumped at the railway station," he painfully recalls.
Every single day, news of an unclaimed body travels to Sharif Chacha. Hindu or Muslim, he believes everyone deserves dignity in death.
"They come with the corpse, cremate it and let me know when the work is done. Sometimes I also supervise things. The bodies of unclaimed muslims are brought to the graveyad, where they are washed and given a proper burial."
With age no longer on his side, Sharif Chacha now has the support of 35-year-old Pandit Santosh Mishra.
"Sometimes when the Muslims require help, Chacha calls me. I come even at night and then somehow we both perform the last rites. If it is a Hindu, we burn the body and if it is a Muslim, we bury the body," says Priest Mishra.
Untouched by temple-mosque politics, people like Sharif Chacha and Pandit Santosh give us hope that the values of Awadh are very much alive.
"If a Muslim is goes off to sleep hungry, then it is shame on the Hindu and vice versa," says Sharif Chacha.
Mohammad Sharif's life is about treating the dead with dignity. It does not matter to him whether it is a burial or a cremation. It is people like him that help preserve the social fabric of Ayodhya and Faizabad, which have given the country its most divisive and polarizing dispute in history.