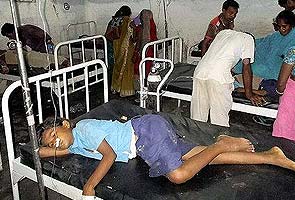 Patna:
20 young children have died in Bihar and more than 30 are in hospital, allegedly due to food-poisoning from the free mid-day meal at a government-run primary school near Chhapra in the central part of the state.
Most of the children who died were younger than 10.
The woman who cooked the meal is undergoing treatment at a hospital where she lies sedated.
The children fell ill soon after eating the meal of rice, pulse and soyabean on Tuesday afternoon.
12 dead children were buried near the school, as hundreds of angry protesters in Chhapra demanded severe action against the school. Relatives alleged that many children who were critical had died due to negligence and delays by the hospital.
As Bihar tried to come to terms with the horrific tragedy, state Education Minister PK Shahi said preliminary inquiries revealed the food had traces of an organophosphate used as an insecticide on rice and wheat crops. "The food may not have been washed before it was served at the school," he said.
According to some reports, only children who ate the soyabean had been affected. Locals said the dish had been cooked in bad, poisonous oil.
"This is an example that we should exercise more caution when it comes to mid-day meals provided to children," said Union Education Minister Pallam Raju. The Centre has sent an official to investigate the deaths.
A case has been registered against the school's headmistress Meena Devi and other teachers.
"The children came back crying from school and complained of a stomach ache after having dal, rice and vegetables. We went to the school to find out and saw many children lying sick," said a distraught parent whose child is being treated in hospital.
Bihar Chief Minister Nitish Kumar has ordered an inquiry and announced a compensation of Rs 2 lakh to the families of the children.
The opposition BJP, which was dumped recently by the chief minister after a 17-year partnership, was quick to blame the Nitish Kumar government. "This is criminal negligence and the state government is responsible for this."
Chhapra is the Lok Sabha constituency of former Bihar Chief Minister Lalu Prasad Yadav, who said, "This is happening everywhere in Bihar. I will see who is responsible for this."
In Bihar, widespread corruption has been reported in the mid-day meal scheme, the world's largest school-feeding programme that reaches out to some 12 crore children in schools across the country.
Bihar Food Minister Shyam Rajak said as per procedure, the school administration was given a cheque and they were responsible for buying the rations.