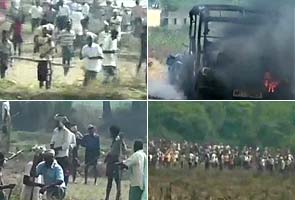 Hyderabad:
Two people have been killed in Andhra Pradesh's Srikakulam district in protests against a thermal power plant.
The police reportedly opened fire in the Kakarapalli area of Srikakulam district where East Coast Energy is constructing a thermal power plant. Locals argue that the project will destroy the wetland that supports many fishermen.
"With rubber bullets, normally people won't die, but we will verify. Today there was tension because people attacked the plant, all the neighbouring villagers came with huge sticks, attacked the plant, so the police was also there," said K Aravinda Rao, the Director General of the Andhra Pradesh police.
The Naupada swamps in this part of the state have been acknowledged as a fragile wetland area. The company, however, has been granted the necessary environmental clearances by the government. Environmentalists allege that the permissions have been bought.
"They don't even mention that it is a wetland," says Former Union Energy Secretary EAS Sharma.
"What is Environment Impact Assessment that doesn't mention that it is a wetland?'' said Sharma.
In July last year, two villagers were killed in a similar protest against another thermal power plant in the same district.
Get Breaking news, live coverage, and Latest News from India and around the world on NDTV.com. Catch all the Live TV action on NDTV 24x7 and NDTV India. Like us on Facebook or follow us on Twitter and Instagram for latest news and live news updates.