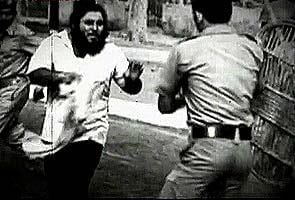 Delhi:
"This was a case where the police acted in a pre-planned manner and every policemen was keeping his eyes closed", the words of the public prosecutor earlier this year before a CBI court in the capital that is trying Congress leader Sajjan Kumar and five others. Kumar along with the others is accused of inciting mobs to attack Sikhs in 1984. The case against Sajjan Kumar is still on in court and a verdict may not be out before March next year.
However, the question that still remains unanswered till today is, what was bulk of the Delhi police doing as mobs roamed the streets of the nation's capital in 1984 targeting Sikhs coming off trains and buses, pulling them out of their homes and shops and then killing them, often in the most brutal of ways- some with swords, others by putting tyres around their necks and setting them on fire.
Surely, the police couldn't have been scared of the mob? Were they asked to remain in the police stations as the mobs had a free run of the capital? And even if political leaders of the day may have asked them to look the other way, did the policemen not fail in their duty to protect innocent citizens?
After a virtual three-day free run of the capital by the mobs, some order finally returned on the evening of the 3rd of November 1984 when the police and the army finally started coordinating and started restoring order. But by then the damage had been done- 3000 innocents had been killed. Even young boys were not spared. Eyewitness accounts have recounted the horrific events of those dark days when even Hindu families who tried to give shelter to fleeing Sikhs were not spared.
"We were fleeing for our lives. I had two young boys who I know would be attacked," says Mrs Kaur, a survivor of the 1984 riots who had been living in South West Delhi. She asked her neighbour who had daughters the same age as her boys for two salwar kameez, which she made the boys wear. Being Sikhs, both had long hair and Mrs Kaur asked both her boys to open their hair, "atleast from afar they may just pass off as women" she said. "They hadn't started killing the women yet," she adds. She was lucky, they managed to escape on board a truck.
She recounts the scene she saw on the road out of her colony which was attacked. "We saw an incident of a man with a tyre around his neck and him burning and screaming. The police vans were moving up and down. They could see the man being attacked, why couldn't they stop it? What apathy was this?" says Mrs Kaur
"The Delhi police of 1984 have much to answer for," says H S Phulka, a High court lawyer who has single-handedly spearheaded the quest for justice for some of the Sikh families.
After the 1984 riots, Ved Marwha, a former top cop with the Delhi police and someone who would go on to serve as governor of two states was asked by the government to probe the role of the police. Mr Marwah was given three months to do his job, but just as he had begun to complete his inquiry, he was taken to court.
"Several of the police officers who didn't like the way the enquiry was progressing, approached the High Court to stay my inquiry" Says Mr Ved. The Court however refused to step in, but then, just as abruptly, the government asked him to stop his inquiry and another committee started investigations.
"I had studied records of police stations, the startling thing was that while there were hundreds of calls made to police stations, the registers which records the movement of policemen were absolutely blank. That means that either the police was sitting inside the police station or deliberately they did not want to disclose where they were and what they were doing," says Mr Marwah.
Till date, there have been more than 10 commissions and committees set up to probe the 1984 riots. And while 2 commissions and Committees have recommended action against 142 policemen, proceedings could only be started against 35 as 72 of them had either retired or died.
"It's the last opportunity we have to try and provide justice. Most of the eyewitnesses have died as have many of the accused. But there are still some alive who saw what happened and there are still those who either took part in the carnage or failed to do their duty," says Mr Phulka.
Several Sikh organisations are working to petition the Prime Minister to set up a Special Investigation Team (SIT) to look into the crimes that took place during 1984 riots. "If the Supreme Court could order an SIT to look into the Gujarat Riots, why not 1984?" adds Mr Phulka.
So far, they have already got more than 50 thousand signatures, including signatures of top jurists, former Judges and activists. Question is, will it be enough to finally get the wheels of justice moving?