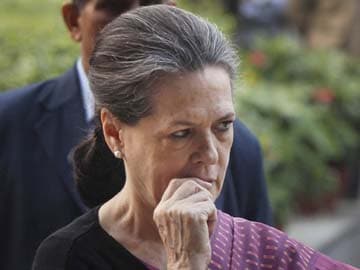 New York:
A US court has asked India's Congress Party president Sonia Gandhi to provide a copy of her passport to show that she was not in the US between September 2 and September 9 last year.
Ms Gandhi had filed a motion in a federal court in Brooklyn, New York, seeking dismissal of a human rights violation case against her relating to the 1984 anti-Sikh riots, asserting she had not been served the summons as she was not in the US during that time.
However, holding that Ms Gandhi's January 10 declaration is insufficient to prove her absence from US, Judge Brian M. Cogan of Brooklyn Court on Thursday asked her to "provide a copy of her passport, showing her most recent entry and exit stamps into and out of the United States."
"This would appear to obviate both the need for any documents from the hospital-resolving defendant's medical privacy concerns - and the need to rely upon a third party government agency like Customs and Border Protection", the order states.
"Whatever form this evidence takes, defendant must provide it by April 7, 2014" Judge Cogan ordered."
The 1984 human rights violation case against Ms Gandhi hinges on the issue whether she was served on September 9 as claimed by Sikhs for Justice (SFJ) or she was not present in the US during that time as per her claim.
SFJ claims that on September 9, it had served the summons and complaint on the hospital and security staff at Memorial Sloan-Kettering Cancer Centre in New York where Ms Gandhi was believed to be undergoing medical treatment.
The Brooklyn court had in September 2013 had issued summons against Ms Gandhi on the complaint filed by SFJ and some victims of anti-Sikh violence in India in November 1984.
The group has sought compensatory and punitive damages from Ms Gandhi for her alleged role in shielding and protecting Congress party leaders including Kamal Nath, Sajjan Kumar and Jagdish Tytler from prosecution for their alleged role in the 1984 riots.
Get Breaking news, live coverage, and Latest News from India and around the world on NDTV.com. Catch all the Live TV action on NDTV 24x7 and NDTV India. Like us on Facebook or follow us on Twitter and Instagram for latest news and live news updates.