New Delhi:
Nineteen people, mostly students, were killed after a building in Surat caught fire today afternoon. The students studying in a coaching centre died and many were seen jumping off the multi-storey building in Surat that caught fire. The fire engulfed the third and fourth floor-- where the coaching centre ran-- of a Takshashila Arcade in Sarthana area of Surat, officials said. There were 120 students registered in the coaching class. Nineteen fire tenders and two hydraulic platforms were pressed into service to douse the flames and for rescue operations, an official at the Surat fire control room said. Television footage showed students jumping off the third and fourth floors of the building. Prime Minister Narendra Modi tweeted about the incident: "Extremely anguished by the fire tragedy in Surat. My thoughts are with bereaved families. May the injured recover quickly. Have asked the Gujarat Government and local authorities to provide all possible assistance to those affected."
Here are the updates from the fire in Surat's Takshashila Complex:
NDTV has been informed that the owners of the Takshashila Arcade in Surat are on the run.
Footage of the fire incident in Surat showed people trying to grab a large banner on the side of the building as they plummeted down.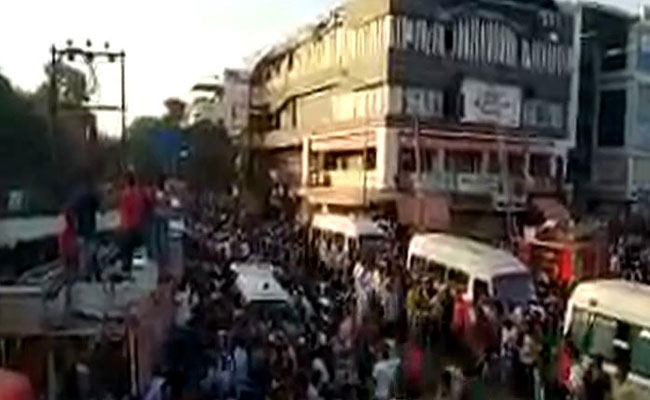 Union Health Minister JP Nadda has spoken to Gujarat Chief Minister Vijay Rupani regarding the fire at a coaching centre in Surat, assuring all help, news agency ANI said. The Union Minister has also directed the AIIMS trauma centre director to render all help. It was also reported that a team of doctors from the burn and trauma department of AIIMS Delhi has been constituted and put on alert.
Around 10 students on the fourth and third floor jumped off to the ground to save themselves from fire and smoke, news agency Press Trust of India quoted a fire official.
Navsari lawmaker CR Patil told NDTV that the building which caught fire had no fire exit, adding that the fourth floor of the Takshashila Arcade - where the coaching centre was located - was an illegal construction.
Surat MP Darshana Jardosh told NDTV that some of those who jumped off the building to escape the fire are seriously injured and have been admitted in hospital, adding that two are critical.
My heart goes out to the parents & loved ones of the children killed in the fire in Surat.This mind-numbing tragedy once again drives home how poor our building codes & fire safety standards are.May the souls of the deceased rest in peace & may the injured make a speedy recovery.

- Omar Abdullah (@OmarAbdullah) 24 May 2019