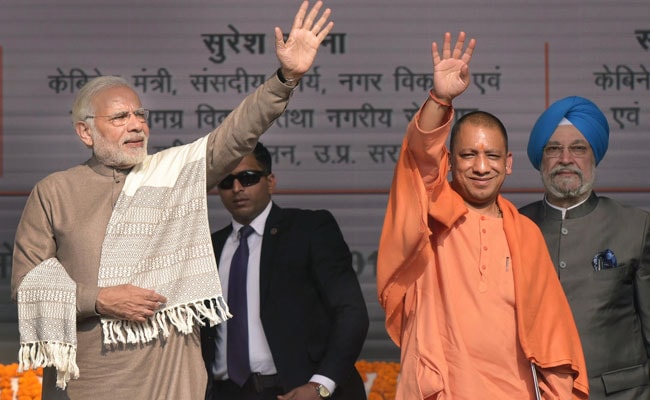 New Delhi:
After 10 lakh students did not appear in the Uttar Pradesh board exams in the last four days, Chief Minister Yogi made a case for making tests simpler so that they do not scare away students. The drastic fall in the number of students who were supposed to write the exams is also a result of strict monitoring to end cheating in the tests, the chief minister said.
"When we said let's conduct a cheating-free exam, 10 lakhs students dropped out. This is the figure until now. I don't know what will happen in future," Mr Adityanath said.
The 45-year-old saffron-robed chief minister was launching the Hindi edition of Exam Warriors, a self-help interactive book by Prime Minister Narendra Modi that seeks to serve as a handy guide for students.
"A fear of exams is being created among students," Mr Adityanath said, adding the book by PM Modi will help students set a confident frame of mind for taking exams. "It is necessary to think on how exams could be further simplified," said Mr Adityanath, who was made chief minister in March last year after the BJP won the Uttar Pradesh assembly elections with a massive mandate.
The chief minister, who is also the head priest of the Gorakhnath temple in Uttar Pradesh, went on to cite an example of how the annual pilgrimage
Kanwar yatra
is organised smoothly because it does not involve instructions that could impede the event or inconvenience people.
"When I took stock of the situation, I was told that several instructions had been given to avoid any untoward incident. The officials said we have stopped the use of mikes, conches and bells," he said of the
Kanwar yatra
on the Ghaziabad-Haridwar route where, according to Mr Adityanath, four crore people walked last year.
Mr Adityanath said the officials told him that the route passed through some sensitive areas and it was difficult to keep an eye on them. "I said permit people to use mike, conches and bells as per the Supreme Court guidelines. Inspire people so that they themselves welcome the yatra and be part of it," Mr Adityanath said, adding there were indeed no disturbances during the
yatra
.
The conclusion, the chief minister said, was that had the government put in barriers, then it would not have been easy to organise the annual pilgrimage.
"So, parents and teachers should not impose any kind of barriers on students and provide them with a good climate to cope with exams," he said.
The chief minister said that of six lakh youth who had enrolled in a skill development programme in Uttar Pradesh in the last 10 months, 2.5 lakh cleared the tests and 1.4 lakh were placed in jobs that paid between Rs 15,000 and Rs 40,000.
With inputs from PTI