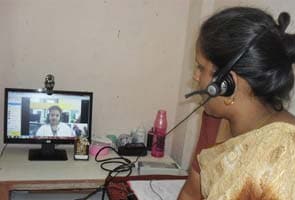 Chennai:
A private hospital, a for-profit micro-finance company and an information technology company have joined forces to attempt what state and local governments have struggled to do for decades - bring quality, affordable medical treatment to India's hundreds of millions of poor people.
Apollo Hospitals, Equitas and HealthNet Global are setting up "telemedicine centers" in Equitas's 300 offices, mostly in urban slums, which will be staffed by nurses and stocked with medical testing equipment and a laptop with video conferencing.
Women who take loans through Equitas and their families (about 8 million people, the companies estimate) can schedule a doctor's "visit" at the center, and consult with an Apollo doctor by video about symptoms and care. The nurse will measure vital signs like blood pressure and heartbeat, through equipment that transmits readings directly to the doctor and into a patient's computerized medical file.
Total cost to the patient: 50 rupees, or about 96 U.S. cents.
The project started in December, and so far there are just three telemedicine centers set up in Equitas offices. The companies involved don't make a profit. But Rahul Thapan, global head of sales and marketing at HealthNet, said the companies hope to expand the project far beyond Equitas customers in the future.
"We are looking at different types of audiences here, at elderly people who may not be able to afford health care, for example, and there is a huge potential to go into semi-urban and rural areas, as well," Mr. Thapan said.
Separately, Apollo and HealthNet have started a for-profit virtual doctors' visit business with telecommunication companies Aircel and Idea Cellular. Some customers of these telecom providers can schedule a virtual doctor's appointment, in which a paramedics with a laptop and medical testing equipment come to their home. The patient is connected via video conferencing to the doctor. The cost of these visits varies according to the tests done, but starts at about 300 rupees ($5.74).