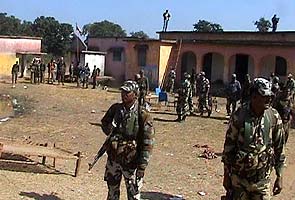 Ranchi:
A 1.5 kg bomb has been found stitched inside the abdomen of a CRPF jawan killed in an encounter with Maoists earlier this week in Jharkhand's Latehar district. Doctors performing an autopsy on the body in Ranchi last night detected metal and called in a bomb disposal squad which confirmed that explosives had indeed been placed inside the jawan's body. The bomb has been defused.
The 29-year-old constable, Babulal Patel, was among five Central Reserve Police Force or CRPF men whose bodies were missing for two days after Monday's fierce gun battle that left 12 security personnel dead. The five bodies were found yesterday in a search operation. Two of them had explosives tied to them, Jharkhand's Director General of Police GS Rath said. There was an explosion while one of those bodies was being moved, killing three people, including two villagers helping the securitymen.
The police officer also said that the two other bodies found yesterday did not appear to be have bombs either inside them or strapped on them. PTI has quoted senior CRPF official as saying that the bomb placed inside the jawan's body was a "pressure bomb prototype which explodes on being disturbed."
Officers said using the bodies of dead jawans to strap on bombs or putting them inside bodies before leaving them to be found was an old Maoist technique used by them to inflict more casualty. Several soldiers have lost their lives to such incidents, particularly in Chhattisgarh, in the past, but Naxals had not used the gruesome strategy for several years now.
Fourteen people, including 11 jawans of the Central Reserve Police Force and one Jharkhand policemen were killed in the Latehar encounter on Monday. The gun battle took place near the Bhelwahi hill-top, about 100 km from Jharkhand's capital, Ranchi. Police sources say the Maoists were able to inflict so much damage because of their fortified location - they were strategically positioned on the top of the hill.
About 16 injured police personnel are being treated at the Apollo hospital on the outskirts of Ranchi.
Jharkhand's caretaker Chief Minister Arjun Munda condoled the death of the security personnel and civilians. Accompanied by Mr Rath, Mr Munda met the injured personnel at the Apollo Hospital on Wednesday.
(With inputs from PTI)