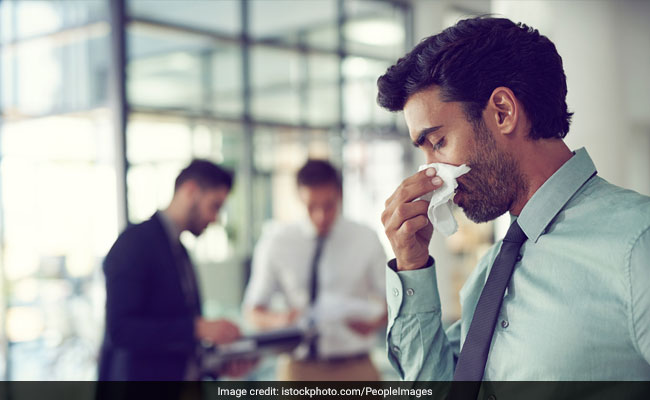 Highlights
Taking warm fluids and steam inhalations can be helpful
Take flu vaccine to prevent infections and cold
Wearing pollution masks everyday
More and more people are falling prey to pollution, experiencing symptoms of cough, cold, sneezing and congestion. According System of Air Quality and Weather Forecasting And Research (SAFAR), pollution levels can worsen until November 4, with high moisture trapping pollutants in the air and calm wind not allowing it disperse, reports IANS. The Air Quality Index on Thursday was 393 in Delhi - which is part of the "very poor" or near "severe" category. Such statistics have made it imperative for people to take precautionary measures on day-to-day basis in order to prevent from falling sick because of air pollution.
Dr Gita Prakash, a Delhi-based family physician recommends staying indoors during times of high pollution such as early morning and late at night. She recommends using air purifiers at home in order to make air indoors air cleaner.
Also read: What To Eat When You Have A Cold And Flu - Celebrity Nutritionist Nmami Suggests
"Taking flu vaccine can be helpful in order to prevent risks of cold, cough and viral infections. Also, people should increase intake of Vitamin C in order to build up their immunity. This can be done either from food sources of Vitamin C or by taking supplements for some additional protection from diseases and improving your immunity," she says.
Dr Gita also says that people should make efforts to ensure that people around them don't burn fire crackers. "Taking warm fluids, steam inhalations, salt water gargle and avoiding cold and sour foods can be helpful in preventing sickness from air pollution. Foods like banana and dahi (yogurt) can increase congestion. You can take dahi during the day, but avoid its consumption during night," she recommends while adding that with the changing weather, dress accordingly to keep yourself warm and covered.
Also read: Beware! Poor Air Quality Can Be Harmful For You: Top 6 Natural Ways To Decongest Your Lungs
With Air Quality Index in the very poor category, it is important that everyone wears N-95 masks every day, says Dr Himanshu Garg. "You can sprinkle water outside your home in order to let the dust particles settle on the ground. People should take their preventive medicines regularly and do yoga and breathing exercises in order to prevent falling sick because of air pollution," says Dr Himanshu.
Such levels of air pollution are particularly harmful for people with diabetes and health conditions such as high blood pressure, since they need to go for a walk or exercise regularly in order to keep themselves healthy. On being asked if diabetics need to take extra precaution in the present times, Dr Sujeet Jha says, "Healthcare requirements of those who take a walk can be more at this time. So, diabetics should go for a walk whenever it is safe to go outside. Or they can also walk inside home, but the question is how clean is the air inside home?" he asks.
Also read: Air Pollution Is On The Rise! Eat These Foods Daily To Protect Yourself From Air Pollution
An effective way of making air inside your homes cleaner is by growing more plants, cleaning carpets, curtains and all other objects which can accumulate dust regularly, cleaning the floors of the house with disinfectants, etc.
(Dr. Gita Prakash is a Family Physician at Max Multi Speciality Hospital, Panchsheel Park.)
(Dr Himanshu Garg is Head of Department of Respiratory and Critical Care, Artemis Hospitals)
(Dr Sujeet Jha is Director, Institute of Endocrinology, Diabetes & Metabolism, Max Healthcare)
Disclaimer: This content including advice provides generic information only. It is in no way a substitute for qualified medical opinion. Always consult a specialist or your own doctor for more information. NDTV does not claim responsibility for this information.