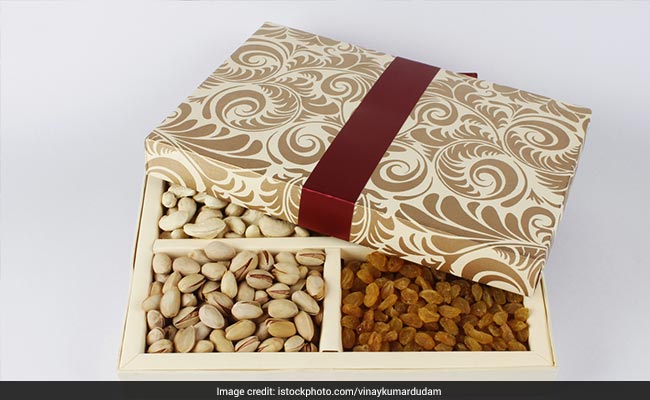 Highlights
Hazelnuts are a healthy variety of nuts
Nuts are an essential part of Diwali celebrations
Nuts are good for heart health and weight loss
Diwali 2018 is here! Diwali is one festival which many people for wait for, throughout the year. An essential part of Diwali celebrations is nuts - which are bought, distributed and shared widely in the form of gifts, and even as a snack. A good source of healthy fats, fibre and other essential nutrients, nuts are a powerhouse of numerous health benefits. So on the very auspicious occasion of Diwali, we talk about health benefits of including nuts in your diet and some of the healthiest varieties of nuts which you should be eating this Diwali 2018. Keep reading...
6 healthiest varieties of nuts you should be eating this Diwali
1. Almonds: Protein content in almonds is slightly less than peanuts. However, they are healthy snack to munch as compared to potato chips and other deep fried junk food. Nutrient-rich almonds contain calcium, magnesium, phosphorus, iron, vitamin E and potassium.
2. Cashews: The creamy texture of cashews makes them a great addition to numerous snacks and dishes. Since they are high in calories, consumption of cashews must be done in limited amounts only.
Also read: Diwali 2018: Top 3 Detox Tips For Restoring Good Health After Diwali Festivities
3. Peanuts:Peanuts are one of the healthiest varieties of nuts you should be eating this Diwali. Peanuts add more protein in your diet and are also made up of a range of antioxidants, polyphenols, flavonoids and amino acids. They contain healthy polyunsaturated and monounsaturated fats which are good for health.
4. Hazelnuts: This Diwali, try including some hazelnuts in your diet as well. They have distinct flavour, which is the reason why hazelnuts are popularly added to numerous sweets and even ice creams.
5. Pistachios: Pistachios too are one of the healthiest varieties of nuts you should be eating during Diwali. Pistachios are a good source of healthy fatty acids and antioxidants. In addition to protein, pistachios contain carbs, fibre, sugar and fat. They are also a good source of magnesium, calcium, iron and phosphorus.
Also read: Tips For Eating Healthy This Diwali
6. Walnuts: Though high in calories that some nuts, walnuts are comparatively low in carbs and high in good fats. Walnuts are loaded with healthy polyunsaturated fats which offer a variety of health benefits. Walnuts are also rich in protein and can be included in a diet for weight loss.
And not just Diwali, these heart-healthy nuts should be a part of your diet all throughout the year. You can eat nuts as an in-between meal snack, or have nut butters or nut milk. People on low-carb diets can benefit from including nuts in their diet as they are low in carb and high in good fat.
Also read: Diwali 2018: Too Many Late Night Diwali Parties? Here's You Can Manage Your Meals And Health
Have a happy and healthy Diwali with these healthy varieties of nuts!
Disclaimer: This content including advice provides generic information only. It is in no way a substitute for qualified medical opinion. Always consult a specialist or your own doctor for more information. NDTV does not claim responsibility for this information.