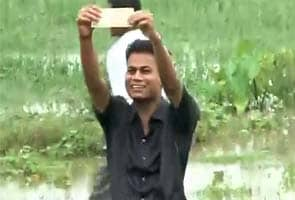 Guwahati:
A youth's body was on Tuesday fished out from a wetland here in which scores of people entered to collect Indian currency notes that were found floating on the water.
The youth, in his early 20s, had dived into the Silsako Beel on Tuesday morning along with some other eager beavers to look for and pocket the currency notes floating on the water, police said quoting eyewitnesses.
Eyewitnesses said the incessant rains lashing the state might have raised the water level of the wetland, and the youth who was probably not a good swimmer drowned.
Following the incident, the district administration issued strict orders prohibiting anyone from entering the water body.
On Monday, Indian currencies in the denominations of Rs 1,000 and Rs.500 were found floating on the Silsako Beel waters in Chachal area. Locals believed the currency notes was hidden black money, and people continued the look for them till late night.
"Today (Tuesday) also we saw people gathering here from 7 am While some of them jumped in the waters and continued search, some waited on the bank. However, the tragic incident took place around 10.30 a.m. and the rush for money came to a halt," said Dinesh Sarma, a local resident.
Police were yet to find the source of the floating currency notes.
"The currencies we have recovered yesterday look genuine. We are trying to find out their source but it's not an easy task as the wetland is spread over a huge area. It'll take some time to find out exactly how and when the currencies ended up in Silsako Beel," Additional Superintendent of Police (Crime) Amitabh Sinha told IANS.
"We have appealed the people to stop the search for the currencies. However, we cannot seal a huge wetland like Silsako to restrict the movement of the people, which might lead to accidents like today's," Sinha said.
Another police official said: "The currencies look genuine. However, we can confirm it after receiving the official report from the Reserve Bank of India."