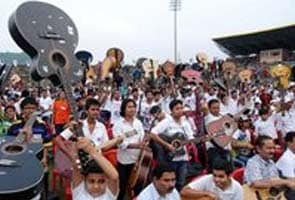 Guwahati:
A total of 5406 guitarists entered their name into the Limca Book of Records by simultaneously playing a song by the legendary singer Bhupen Hazarika.
The event saw Hazarika's evergreen record "Bistirno Parore" being tuned by people from all walks of life at the Sarusajai Stadium.
Hope Events, organisers of the event, said that they plan to break the world record next and enter their name into the Guinness Book of Records.
The current world record was made in Poland in 2009, when 6346 guitarists played a tune together.
At the event, the guitarists broke the previous national record for the largest guitar ensemble which was created in Shillong in 2006 by 1730 guitarists.
All the participants at the event carried their own instrument.