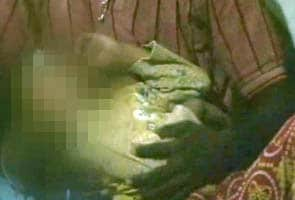 Gurgaon:
A six-year-old became a tragic statistic when she was raped by three men in Haryana's posh Gurgaon, a Delhi suburb, on Thursday. The child was allegedly lured with a chocolate to a secluded place in Gurgaon West and raped. This is the 19th rape reported in Haryana in just one month.
Of the three men suspected of having raped the child, one has been arrested and two are absconding, the police said.
"My elder daughter got out of my sight for a moment as my younger child was crying. I searched for her everywhere. I heard her crying and found her in a room. She was in an injured state. The boy tried to run away but we caught him. He is under police custody; let's see what they do with him," said the victim's father.
Congress president Sonia Gandhi visited the home of a Dalit rape victim in Jind, Haryana, on Tuesday and promised stringent action against those guilty. Her visit was seen as a damage-control exercise after much anger and criticism that her party's government in the state has faced for its inability to prevent attacks on women. Incidents of rapes have, however, continued unabated after Mrs Gandhi's visit, with eight rape cases reported since Tuesday.