The cold months are here and how. As days get shorter and mornings a bit sluggish, your mind is busy looking for excuses to stay in your quilt for as long as possible. Most of us have a love-hate relationship with winters. Either you hate the dull, dark days or love the nip and all the seasonal treats that are available at this time of the year. That is, in fact, one of the few things that we are thankful for these few months; signature winter dishes that can instantly warm you up from within. From sweet to savoury, desi to international favourites, there is just no end to our winter cravings.
Here are our most favourite winter delicacies we cannot wait to gorge on already!
1. Hot Chocolate
Come winters, and our eyes start roving for all things hot and chocolaty. You would think that Hot Chocolate, a winter favourite, must have been the brainchild of one such fellow chocolate lover, right? Well, not exactly. The origins of hot chocolate go back 2500 years in time. As a matter of fact Mayans used to mix the chocolate with water, cornmeal and chili peppers to make a drink which was not even consumed hot! It took a few centuries for our beloved winter treat to evolve into the way it is consumed today. Here's a delicious recipe of hot chocolate you can try this winter.
(Also Read: Hot Chocolate: The 2500 Year Old Journey of the World's Most Comforting Winter Drink)
2. Gajar Ka Halwa
There is perhaps no winter indulgence as celebrated as our long standing love affair with gajar ka halwa. Let's admit it, the moment you chanced upon a bunch of fresh desi carrots at the vegetable mart near you, a piping hot bowl of gajar ka halwa was the first thing to cross your minds, wasn't it? Cooked in oodles of ghee, sugar, mawa, and topped with chunky nuts, gajar ka halwa is a showstopper in any dinner or lunch spread. This winter, make this ultimate winter delicacy at home with this toothsome recipe.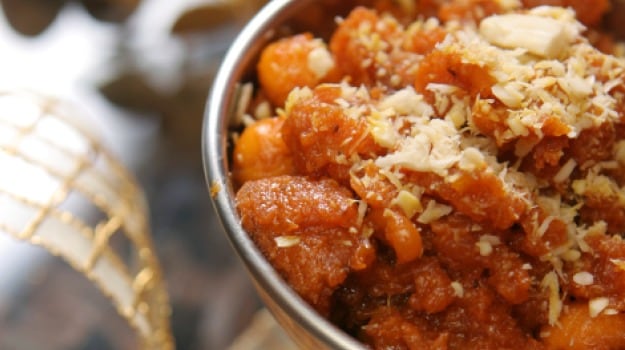 3. Chicken Soup
It is soothing, filling, yummy and an ideal fit for evenings when you want to eat light. Not to mention, just how nutritious it is, or even versatile. But the virtues of this simple, heart-warming dish don't end there, the best part about a steaming hot cup of chicken soup is that it is a hit across ages. From your fussy little eaters to adults, you know this sumptuous treat is going to leave everybody slurping and craving for more. Not just that, chicken soup is one of the very few winter delicacies that can even help you shed a kilo or two! Yes, you heard us. Just make sure you opt for clear chicken soup over the creamy one.

4. Shahi Tukda
The land of Awadh and its rich contribution to the gastronomical affair of our country is known to all. One such Awadhi delight, we cannot wait to dig into this season, is Shahi Tukda. The bread pudding, made with deep-fried pieces of bread smeared in condensed milk, topped with nuts and a fragrant touch of cardamom, also has a Hyderabadi cousin in 'double ka meetha'. There happens to be very little difference between the two, except that double ka meetha is said to be slightly fluffier. Here's a recipe that can help you make this delicious winter treat in the comfort of your own kitchen.
5. Mac and Cheese
Macaroni cooked in oodles and oodles of cheese and choicest herbs. It has been your ultimate comfort dish for times good and bad. And this nippy weather, there's nothing quite like digging into this muddle of hot melted cheese and absolute yumminess. Make it yourself with this indulgent recipe of mushroom mac and cheese. There, we saw you slurping already.
So what are you waiting for? Don your aprons and get started. Do let us know your ultimate favourite of these five.
Election Results for Lok Sabha Election 2019 will be out on May 23. Get the latest election news and live updates on ndtv.com/elections. Catch all the action on NDTV Live. Like us on Facebook or follow us on Twitter and Instagram for news updates from each of the 543 parliamentary seats for the election 2019