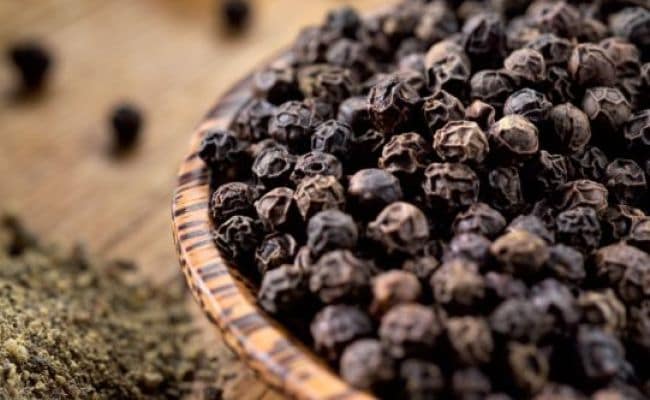 The next time when you are cleaning your kitchen shelf, keep black pepper to the front of your shelf. Introduced to Indian households from many centuries now, the humble black pepper does not only enhance the taste of your dish, but also holds many benefits than we can imagine. Black pepper is a powerhouse of health benefits and is quite effective for weight loss. It is a brilliant source of extracting nutrients from food. The desi super food is power packed with vitamin A, K, C, and minerals like calcium, potassium and sodium. Moreover, it is known to have healthy fats and dietary fibre that helps losing weight. If you eat fresh pepper and begin to sweat, that's the pepper helping your body to get rid of excess water and toxins. However, always remember to control its consumption, perhaps a pinch of black pepper in your food is enough.
Black Pepper Help In Weight Loss
According to Macrobiotic Nutritionist and Health Practitioner, Shilpa Arora ND, "Black pepper comprises piperine, which is a compound that improves the metabolic performance and reduces fat accumulation in our body. Adding black pepper tea to our daily diet will help in managing obesity. Moreover, it also helps in the absorption of nutrients in the body, and strengthens our immunity system."
Black pepper is an excellent superfood that increases nutrient levels in our body. The outermost layer of black pepper contains phytonutrients that breaks down the fat cells in our body and further increases metabolism. But, overdoing of black pepper is also not recommended. Just add a pinch of black pepper per portion.
The piperine in black pepper eases digestion and stimulates the stomach, which then secretes more hydrochloric acid that helps to digest proteins in food. So a bit of pepper in food will actually help you to digest it faster.
How To Eat Black Pepper For Weight Loss
The best way to eat black pepper is to consume it directly. And if you can tolerate hot and pungent flavours, then it is best to eat 1-2 black peppercorns every morning for a healthy metabolism. But, if you have a low tolerance for hot and spicy things, then have it in the form of black pepper oil.
Another great way to consume black pepper is by having black pepper tea. Every day intake of black pepper tea is one of the best ways to promote speedy weight loss. All you need to do is just add 1 teaspoon freshly ground black pepper to your tea. And, that's it. To accelerate its affect, add other metabolism boosting herbs and spices like ginger, tulsi or cinnamon. To have a flat tummy, drink black pepper tea every morning.
For the ones who don't fancy drinking tea can drink black pepper juice. It is an equally good option to aid weight loss quickly.