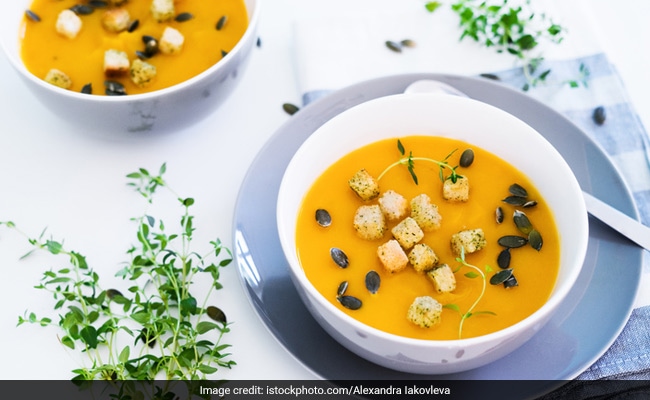 According to a journal Neuropsychopharmacology, if you are planning to cut down on foods that are rich in saturated fats like butter, cream cheese and meat, drinking soup rich in umami- savoury taste- before meal may help. Researchers have found that soup causes changes in the brain that promote healthy eating behaviours and food choices, especially in those at risk of obesity. Umami is a Japanese word to express a delicious, savoury meal, and it represents one of the five basic tastes, together with sweet, salty, bitter and sour. A key component of umami taste is glutamate, a naturally occurring non-essential amino acid that can be found in nearly all foods, and especially in foods high in protein like dairy products, fish and meat.
According to the researchers, many cultures around the world advocate drinking a broth before a meal. The study suggests that people at high risk of obesity could benefit from an umami-rich broth before a meal to facilitate healthy eating and healthy food choices. People drinking the umami-rich broth, those at higher risk of obesity consumed less saturated fat during the meal, the findings showed. The results may open new ways to facilitate healthy eating and reduce food intake in the general population.
Apart from soups, you could also eat salads to help kill the hunger right before your meal. Appetisers could be a powerful way to prevent overeating when you are trying to lose weight. Having something in your stomach before you sit down for a bigger meal can take the edge off your appetite, leaving you in control when a full meal is put in front of you.
It takes the brain several minutes to realise that your stomach is fulfilled, so going slow is an easy way to shed extra pounds. A healthy choice of appetisers will help you choose the right foods in small quantities. Always choose vegetable based soups (without cream), vegetable based salads (without cheese) with a low fat dressing or a fruit salad. They are the best appetisers for filling up on healthy and satisfying foods for your first course.
If you are looking at losing weight, make sure you avoid high fat appetisers that will only end up increasing your appetite and lead to overeating in the later meal, eventually making you gain weight.