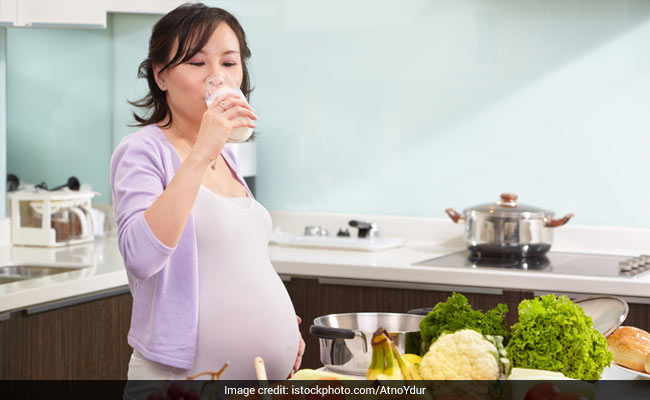 Pregnant women have to be extremely careful about what they eat and drink, considering it may determine their baby's health too. According to a study published in the journal BMJ Open, pregnant women who drink milk containing probiotic friendly bacteria are less likely to have premature births or pre-eclampsia, which are serious complications related to pregnancy. As per the study, women who drank probiotic drinks early in their pregnancies were 21 percent less likely to give birth prematurely as compared to those who didn't drink before or during pregnancy.
According to the researchers, since pregnancy is a time of rapid change and different exposures can have different effect depending on the time of exposure, it was important to find if there is any special time of consumption that might be of greater importance when it comes to these associations. These findings are based on statistical observations; they do not prove causality and are therefore not enough to start recommending probiotic consumption to pregnant women.
However, having said that, researchers claim that consumption of probiotic milk products during early pregnancy might lower the risk of pre-term delivery, and consumption during the other half of pregnancy may reduce the risk of complications.
For the research, the team of researchers examined data on more than 70,000 pregnancies in Norway. Participating women were recruited for a larger long-term study between 1999 and 2008, and followed through the pregnancy and beyond.
The pregnant women provided information on their diet, medical history and other relevant background and lifestyle factors at 15, 22 and 30 weeks' gestation. Nearly one in four women said that they consumed probiotic milk before pregnancy, while one third drank it early in pregnancy and another third had it during the later part of their pregnancies.
On an average, drinking probiotic milk was more common amongst older, more affluent and better-educated women who didn't smoke and took dietary supplements. While this is just an observation, researchers still need to find more about it.
Here are some foods that pregnant women must avoid and eat in order to stay healthy-
According to a health practitioner and macrobiotic nutritionist, Dr Shilpa Arora, "All kind of packaged and adulterated food items should be avoided during pregnancy. Intake of iron rich products is good for the health. Seasonal and dark coloured fruits like jamun are proved to be healthy for both the mother and child." Foods like fish and seafood, eggplant, unpasteurized milk and its products, sesame seeds, papaya, ajinomoto, pineapple, fennel and fenugreek seeds, refined flour products and grapes should be avoided.