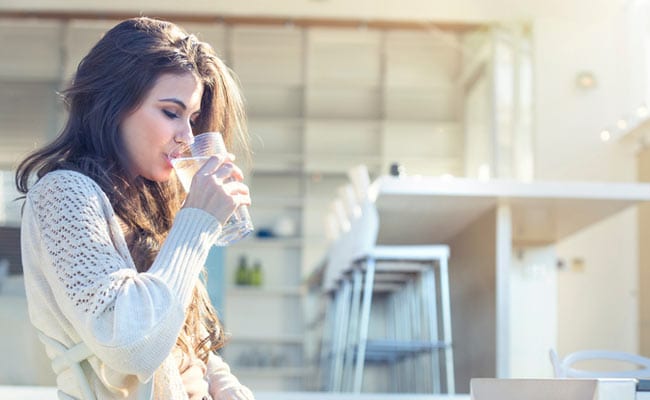 The summers are here in full force and with every centigrade rise in the temperature it is natural for us to tend to the coldest water bottle in the refrigerator. Which is an absolute must-do in summers too. One tends to lose a lot of water in perspiration, which makes it all the more essentially to stay hydrated in summers. Experts say that one should drink at least 8 glasses of water daily. But make sure in your bit to be hydrated, don't overdo it. According to a latest study, overhydration can lead to dangerously low sodium levels or result in brain swelling noted the study published in the journal Cell Reports. Hyponatremia, a life-threatening condition of brain swelling, is more commonly observed in elderly patients, which could also lead to cognitive problems and seizures.
Human body constitutes of mostly water and it depends on it to work properly. Drinking adequate amounts of water may help regulate body temperature, flush out all toxins, prevent constipation and perform all major bodily functions. Over consumption of water, also known as over-hydration, on the other hand, can be equally concerning. Water intoxication happens when the amount of salt and other electrolytes in your body become excessively diluted. In worst case scenarios, the sodium levels may become dangerously low.
"(Hyponatremia) occurs in common pathological conditions, including brain injury, sepsis, cardiac failure and in the use of drugs, such as MDMA (ecstasy)," said Charles Bourque from the McGill University in Canada.
It was yet uncertain how hyponatremia develops, but according to the study, the defect in the hydration sensing mechanism of the brain could be the culprit.
Turns out that brain's hydration sensing neurons are not as equipped to detect over hydration in the same way that they detect dehydration.
Overhydration activates Trpv4 — a calcium channel that can be found in glial cells, that act to surround hydration sensing neurons.
It works as a cellular gatekeeper implicated in maintaining the balance of water in the body.
"Our study shows that it is, in fact, glial cells that first detect the overhydrated state and then transfer this information to turn off the electrical activity of the [hydration sensing] neurons," Bourque explained.
"Our specific data will be important for people studying hydromineral and fluid-electrolyte homeostasis, and clinicians who treat patients faced with hyponatremia," he noted.
The findings revealed that overhydration is first identified by the Trpv4 channel which triggers the release of a type of amino acid known, taurine, which acts as a tripwire to inhibit hydration sensing neurons.
"Preclinical models of hyponatremia will be used to examine if the mechanism we report is affected in this condition with the long-term objective of designing new treatments or diagnostic tools," Bourque added.
(With Inputs From IANS)