Diabetes is a condition where the blood sugar levels are perpetually elevated. Diabetes management is a tricky task. You have to monitor your diet on every level. You don't know what may spike your blood sugar levels. Diabetes is emerging to be one of the most common health conditions across the globe. It is estimated by the World Health Organisation (WHO) that by the year 2030, diabetes would become the seventh biggest killer around the world. While scientists are still working on finding a cure to the condition, but what we know for sure is that the condition is manageable. Through medicines and a proper diet you can ensure that your blood sugar levels are in control. Papaya is said to be a an ideal pick for diabetes. The tropical fruit that is known for its antibacterial properties and antioxidants like beta-carotene and vitamin C, could also ensure that your blood sugar is stable.
Diabetes Management: Here's What Makes Papaya Ideal For Diabetics
In some parts of India, papaya flowers are locally used as a preventive measure against diabetes. Macrobiotic Nutritionist and Health Practitioner Shilpa Arora tells us that the natural antioxidants present within the fruit make papaya a great choice for diabetics. Diabetics are prone to many ailments, including heart or nerve damage caused by irregular blood sugar levels. A diet incorporating papaya can obstruct future cell damage for a better and longer life span. Studies have found that consumption of raw papaya could help maintain blood sugar level and cholesterol because of the high fiber content. Fibre takes very long to break down and digest. This ensures that the glucose is also released gradually and not rapidly. And even though the Glycemic index of papaya is above 55, it is still not a bad idea to include papayas in your diet. This is because the glycemic load of papaya is only 6.4 for 1 cup of papaya (150 grams) which falls under low glycemic load range fruit.
According to a study done by the Centre of Excellence for Biomedical and Biomaterials Research at the Mauritius University, green tea and fermented papaya work together as preventive means for diabetes.
Also Read: Green Peas (Matar) For Diabetes: Why This Desi Veggie Is Good For Regulating Blood Sugar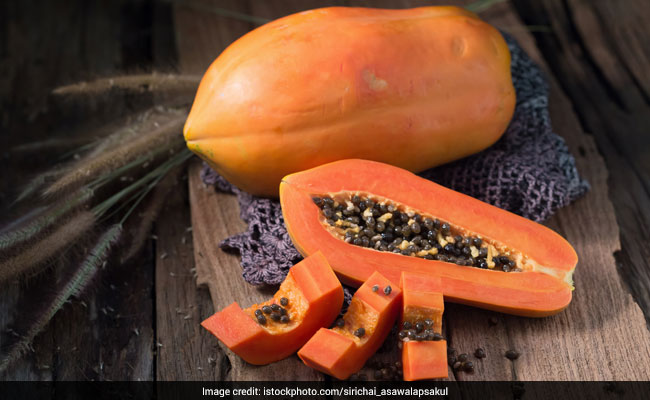 Papaya for diabetes:

papaya flowers are locally used as a preventive measure against diabetes

So now you know how papaya may help you in regulating blood sugar levels. Make sure you have fresh papayas and maintain moderation. Too much of them may cause sugar overload. Juicing them may cost you essential fibres.
Disclaimer: This content including advice provides generic information only. It is in no way a substitute for qualified medical opinion. Always consult a specialist or your own doctor for more information. NDTV does not claim responsibility for this information.