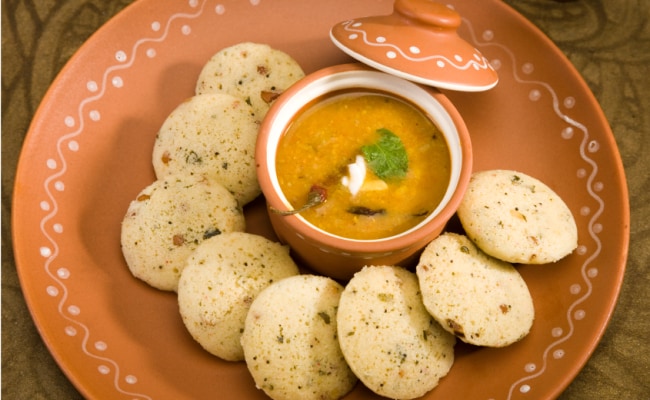 Idli is unarguably one of our all-time favourite breakfast snack. The South Indian delight is often paired with lip-smacking coconut chutney and soul-soothing sambhar. Steamed, puffy and easy to digest, idli is a favourite among health and fitness enthusiasts too. Yes you heard us, in addition to being so delectable, idli is in fact one of the most healthiest Indian snacks which can even help in shedding a pound or two. We tell you how it also makes for one of the best foods to lose weight. Make sure you add idlis to your daily diet and enjoy them with healthy accompaniments.
Here's why you may want to add idli in your weight-loss diet.
Idli is non-greasy

Ditch the fried and greasy fritters and junk food for idli. Idlis are steamed. They are not fried in fattening oil or slathered over with butter. Since the grease content in idli is so less, the calories intake is also relatively low. But before you start gorging on to these puffy delights, you must also know that rice forms an important component of the traditional Idli batter. So if you are going low on carbs, you can cut down on rice content and increase the content of urad dal. You can also sneak in some vegetables and healthy spices in the batter too.
Idlis are good for digestion and gut
Idlis are very easy to digest. All foods that tare fermented are naturally easy to digest. Fermenting foods enable better breakdown of minerals and vitamins in our body, which helps in digestion. According to macrobiotic nutritionist and health practitioner Shilpa Arora, "Apart from aiding digestion, the lactic acid bacteria present in fermented foods also alter the PH balance in the intestines, which is associated with a long life and good health"
Idlis are rich in fibre and protein
Idlis is rich in fibre and protein, which help you keep satiated longer, preventing you from eating more. Moreover, fibre helps promote good digestion, which is a key to lose weight.
Oats Idli is a healthy spin you can give to your traditional idli. Oats are packed with good quality protein and fibre. They induce a sense of satiety, which prevents you from bingeing later on. Here's delicious recipe of oats idli you can try at home today.