Arthritis is a group of conditions that refers to joint pain or joint diseases. There are more than 100 different types of arthritis and related conditions. Arthritis is commonly caused due to inflammation of one or more joints, causing pain and stiffness resulting in severe pain. Arthritis can worsen with age. In worst cases it can even take a toll on daily mobility and movements of the elderly. Fortunately, there's lot that you can do at your home to bring relief to the pain. According to Ayurveda expert, Dr. Dhanvantri Tyagi, "Hot water fermentation is the best therapy to relieve Arthritis pain, considering it soothes your joints and helps them function better. This is only recommended when the case is not severe." As far as herbs that can help the condition are concerned, Dr. Tyagi says, "Which herbs are suggested totally depends from person to person and severity of the condition, but there are some herbs that can be used by everybody."

Here are some herbs suggested by Ayurveda expert, Dr. Tyagi that you can try using at home in order to get some relief from the arthritis related pain


1. Nirgundi

Nirgundi is an Ayurvedic herb, popularly used for all kinds of joint pains. Consuming Nirgundi can also reduce swelling as well as excessive pain. Its potent anti-inflammatory, anti-convulsing and anti-oxidant properties help the joints recover their healthy state in no time. The leaves of the plant Nirgundi are believed to have maximum benefits followed by the stem and the seeds. The plant is bitter in taste and has hot potency, making it even more effective for ailing joints. You can use the Nirgundi oil and apply it on joints, make a paste of the leaves and apply or also make a leaf decoction.
2. Ajwain


Due to presence of anti-inflammatory components, Carom seeds or Ajwain makes for a great food to heal arthritis pain. In winters especially, ajwain comes in very handy due to its anesthetic properties that further help in relieving excessive pain during the nippy weather. Add a spoonful of carom seeds or ajwain in a tub of hot water and soak your aching joints in the water and sit for 5-10 minutes; this will help ease swelling and pain. Another way is to crush these seeds and make a paste and apply it on the affected areas in order to alleviate the pain. Alternatively, you can drink ajwain water every day.
3. Dashmool


Dashmool
is a mix of ten medicinal herbs which is used to cure a variety of ailments.
Dashmool
literally translates to 'ten roots'; out of which five roots are of trees and five are of shrubs. These include
patala
,
gambhari, brihati, shalparni
and more.
Dashmool
or
Dashmula
is effective in inflammatory conditions in the body or
Vata Rog.
Its anti-inflammatory, anti-oxidant, analgesic and sedative properties help cure joint pain. It is available in the form of oil and powder.

4. Shallaki

Shallaki herb strengthens your joints from within and alleviates pain. It also helps in diminishing the swelling and further increases mobility. Popularly known as Boswellia Serrata, Shallaki is also available in the form of essential oil and powder.

5. Ginger

Is there anything this superfood can't do? Ginger is known for its exceptional antiseptic and anti-inflammatory properties that help reduce joint pain and swelling. It is also known to increase blood circulation, which is fruitful to cut down pain in the affected areas. You can drink ginger tea or apply ginger paste on your joints and can also apply a good quality essential oil.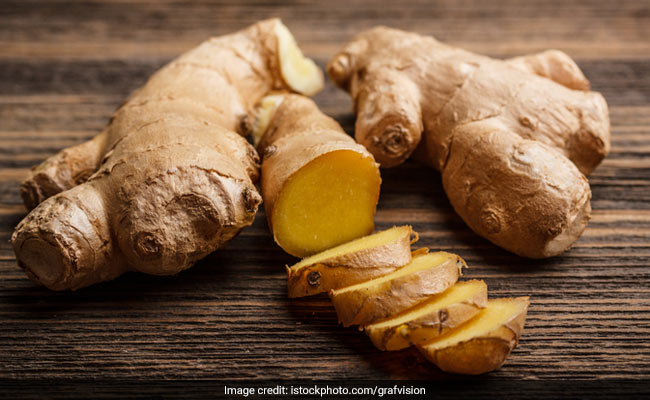 Load up on these herbs and food and keep the nasty joint pains. In case of acute pains however, it is always advisable to visit your physician and expert.
Get the latest election news, live updates and election schedule for Lok Sabha Elections 2019 on ndtv.com/elections. Like us on Facebook or follow us on Twitter and Instagram for updates from each of the 543 parliamentary seats for the 2019 Indian general elections. Election results will be out on May 23.