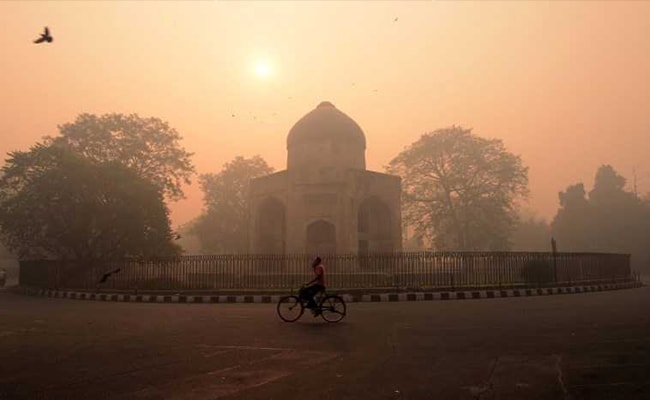 Air Pollution is proving fatal to millions of Indians, and the numbers are expected to grow if immediate steps aren't taken. According to a British Medical journal The Lancet, more than half a million Indians are estimated to have died prematurely in 2015 due to particulate matter (PM) 2.5 air pollution.
The journal was authored by leading doctors, academics and policy professionals from 24 organizations across the world and also looked into significant public health causes triggered due to massive global climate change. According to the report an increase of 46 % in weather-related disasters since 2000 has contributed to a whopping $129 billion in economic losses in 2016.The changes in the climate effectively took more than 920,000 people globally out of the workforce, with 418,000 of them in India alone, read the report.
About 1.9 million deaths across 21 Asian countries in 2015 was attributed to PM2.5 air pollution from sources like coal power plants, transport, household pollution, waste, shipping, agriculture and others.
Of the total of 1.9 million, 524,680 deaths-one in every four-were in India. Of these 524,680 deaths, at least 124,207 were from PM2.5 air pollution at homes, 80,368 from coal power plants and 50,905 from transport.
Gwalior saw the maximum PM2.5 concentration, said the report, the annual average of PM2.5 concentrations in India are 59g/m3 with a maximum measurement of 176g/m3 in Gwalior. According to World Health Organisation, the levels should not exceed 10 g/m3.
What is PM 2.5?
PM2.5 stands for particulate matters less than 2.5 micron. The particulate matter is considered to be one of the most fatal components in contaminating the quality of air. The fine particle can settle deep in the lungs and be absorbed in the bloodstream, which can lead to respiratory problems, cardiovascular diseases and lung cancer.
The report revealed that "87% of random sample of global cities are in breach of WHO air pollution guidelines, meaning billions of people worldwide are exposed to unsafe levels of fine particulate matter (PM2.5)".
"This is significantly higher than previously thought. Global exposure to PM2.5 air pollution has also increased by 11.2% since 1990," the study added.
The study also highlighted "undernutrition as the largest health impact of climate change in the 21st century" and noted a 6% decline in global wheat yields and 10% fall in rice yields for each additional one degree Celsius rise in global temperature.
Air pollution takes a direct toll on lungs and can cause a host of respiratory ailments . Here are foods that can help to keep your lungs strong and strengthen your respiratory tract:
1. Garlic
Researchers found that 'allicin', a compound found in garlic can kill bacteria that trigger life threatening lung infections. Especially in people with cystic fibrosis which is a genetic disorder that mostly affects the lungs. Cystic fibrosis is a condition that affects cells that produce sweat, mucus and other digestive juices. The secretions are normally fluid and thin but for those suffering from cystic fibrosis, they are thick and sticky. And block passageways and tubes, especially in the lungs.
2. Walnuts
Walnuts are a rich source of fatty omega-3 acids, which help in fighting against various ailments related to respiration. One serving of walnuts daily will do the job.
3. Citrus Fruits
Citrus fruits contain vitamin B6 and C and iron that help the lungs transfer oxygen to cells more effectively. It also contains a natural anti-oxidant called beta-cryptoxanthin which makes a great source of keeping lungs healthy.
4. Onions
Onions have a natural anti-oxidant called quercetin that helps prevent various lung related ailments. Onions also contain vitamin B6 and C and other vital nutrients keeping your lungs healthy.
5. Broccoli
Broccoli is rich in anti-oxidants. It consists of NRF-2 dependent characteristics and is considered as one of the best green foods for lungs.