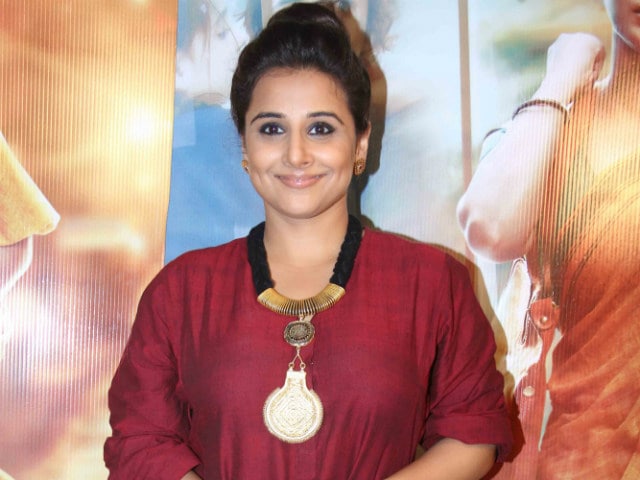 Highlights
Kahaani 2 is a sequel of sorts to 2012's Kahaani
Kahaani 2 releases this Friday
'I don't think demonetisation will affect my film,' said the director
New Delhi:
Actress Vidya Balan is busy busy busy promoting
her new film Kahaani 2
and, as such, has been spared the inconvenience of having to queue up at a bank or ATM to withdraw new notes after Prime Minister Narendra Modi announced the currency ban. We know what you are thinking - which celebrity has had to queue at the bank? The answer is probably none but the truth of the matter is that Vidya is the only who has admitted to not having to line up with the rest of us - and believe us, we've asked a fair number of stars. "I didn't have to do that. I've been promoting my film and the production team takes care of everything," Vidya, 38, told us in New Delhi on Wednesday.
Lucky you, Vidya. On the evening of November 8, PM Modi
unexpectedly announced
that 500 and 1,000 rupee notes were being discontinued from midnight, leaving much of the country scrambling for cash. Banks and ATMs have seen unprecedented queues with people exchanging, depositing and withdrawing money.
The currency ban has also been blamed for the underperformance
of films released in the last three weeks - notably,
Rock On 2
and
Force 2
. Box office collections for both have been poor. However,
Dear Zindagi
, starring Shah Rukh Khan and Alia Bhatt, released last Friday and has had encouraging ticket sales.
Vidya's
Kahaani 2
director Sujoy Ghosh told news agency PTI that he didn't think the currency ban would affect his film's business. "I don't think demonetisation will affect my film. It's all about priority so if people would really want to watch it they will definitely go to theatres. It doesn't matter if there is a currency problem in the country," Sujoy told reporters in New Delhi.
"There are difficult times and something is always going on in the country so I think we shouldn't give it much thought. Many people have appreciated the trailer so I hope they will go to the theatres," he added.
Earlier this week,
Aamir Khan also said he was hopeful
that his film
Dangal
would do well despite the cash crunch. "I hope it doesn't affect our film. I think things are slowly getting back to normal. I think Rock On 2 got affected because it had released right at that time, But I believe
Dear Zindagi
is doing quite well. Hopefully, I think it will not affect our film," he said, reported PTI.
Kahaani 2
is a sequel of sorts to 2012's
Kahaani
, also made by Sujoy Ghosh and Vidya Balan. In the new film, Vidya plays a mysterious character named Durga Rani Singh with Arjun Rampal playing a cop.
Kahaani 2
releases this Friday.
(With inputs from PTI)