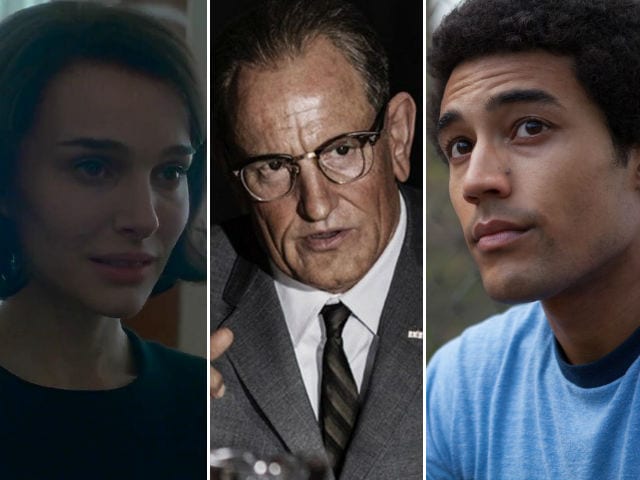 Highlights
Pablo Larrain's Jackie stars Natlie Portman as Jacqueline Kennedy
LBJ is the story of JFK's successor Lyndon Johnson
Barry is based on Barack Obama's days in Columbia University
Toronto:
With global attention trained on the looming US election, the
Toronto film festival
looked back this week at American political figures Jacqueline Kennedy, Lyndon Johnson and a young Barack Obama.
Filmmakers are "looking backward to discover some of the lessons of the past that are relevant today," said Piers Handling, co-director of North America's largest film festival, often seen as a good predictor of the US Academy Awards.
Natalie Portman received a standing ovation on Sunday for her intimate portrayal of Jacqueline Kennedy in Chilean director Pablo Larrain's
Jackie
.
Based on Theodore White's Life magazine interview with the former first lady at the Kennedy compound in Hyannis Port, Massachusetts a week after US president John F Kennedy's 1963 death in Dallas, Texas, the film retells JFK's assassination through the eyes of a grieving widow who maintained her poise.
"We couldn't just tell the story of Camelot," Mr Larrain said at the festival.
"Of course it's political," he said. "But I wanted to make it also about a woman who shaped the country when she had to do it."
The film co-stars Peter Sarsgaard - who also appeared at the festival in
The Magnificent Seven
- as Jackie's brother-in-law Robert, Greta Gerwig as Jackie's aide, Billy Crudup as journalist White and John Hurt as a Catholic priest who counselled her.
Picking up from there, Rob Reiner's
LBJ
stars Woody Harrelson - who also appeared at the festival in
The Edge of Seventeen
- playing Kennedy's successor Lyndon Johnson.
Lacking Kennedy's looks, charm and elected mandate, the shrewd, sometimes abrasive and often-maligned accidental president presided over America's greatest civil rights gains while plunging the nation further into the quagmire of Vietnam.
Bryan Cranston, who won a Tony award for his onstage portrayal of LBJ, reportedly helped coach Harrelson for the role.
The film, which premieres in Toronto on Thursday, also stars Jennifer Jason Leigh, Richard Jenkins, Bill Pullman, Jeffrey Donovan and Michael Stahl-David.
Skipping ahead two decades, Australian Devon Terrell's dead-ringer portrayal of America's current president in Vikram Gandhi's
Barry
received more rousing applause in Toronto.
The film, which premiered Saturday, takes viewers back to the fall of 1981, when a young Barack Obama arrives at New York's Columbia University as a transfer student.
"The voice was such a challenge," Devon told AFP on the red carpet. "I had to change my body, I had to change the way I talk, I had to change my accent."
In the film, the 20-year-old Obama, known to his friends as Barry, finds himself between two worlds.
His relationships with his Kansas-born mother (played by Ashley Judd), estranged Kenyan father and classmates (Anya Taylor-Joy, Ellar Coltrane and Jason Mitchell) become strained as glaring social inequalities force him to confront questions about his identity.
His experiences begin to shape his views about race, government and what it means to be an American.
"Barack Obama's life is sort of a window into understanding race in America," Mr Gandhi said. "It was a great way to tell a story about America through a person's life."
How the film depicts the maturing Obama "could not be of more relevance to America in 2016," festival co-director Cameron Bailey said.
"
Barry
is the story of a young man searching," he said. "It just so happens that what he's searching for in this film is the very sense of diversity and acceptance that his country is still trying to find 35 years later."
(This story has not been edited by NDTV staff and is auto-generated from a syndicated feed.)