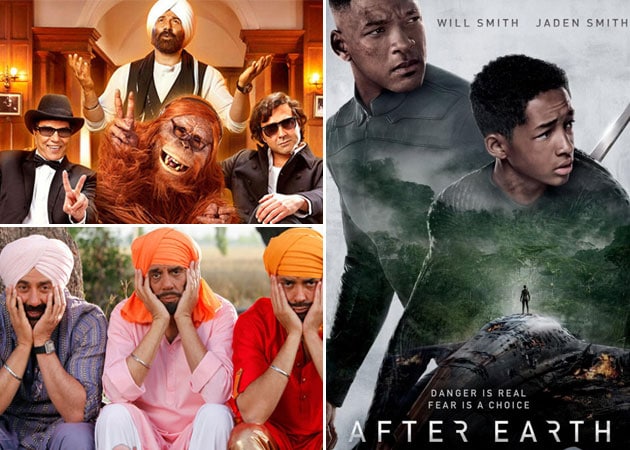 Highlights
It's Bollywood versus Hollywood at the box office today with big ticket outings from both industries such as Yamla Pagla Deewana 2 and After Earth respectively up for release.
Firstly, to face the music at the ticket windows is director Sangeeth Sivan's Punjabi tadka Yamla Pagla Deewana 2, a sequel to director Samir Karnik's 2011 hit Yamla Pagla Deewana.
An action-comedy, the film has been produced by veteran actor Dharmendra, who features in the film along with his the sons, Sunny Deol and Bobby Deol. Actresses Neha Sharma and Kristina Akheeva feature as the female leads. The film has been shot mainly in Britain.
Dharmendra has also turned a rapper for the title track of the film. Talking about his credit in the music video of the same, Neha said, "Dharam ji was the youngest Deol on the sets during the making of this song. The coolest things to do were given to him. He has these hot ladies sitting around him in the video, which is a cute moment."
Having self-confessed that the Deols are laidback when it comes to pr and marketing in the industry, Dharmendra feels that a film's promotion today requires more effort than its making. "Nowadays, it has become a trend that more and more pressure and effort is put on a film's release rather than on its making," he said.
If you're up for some post-apocalypse science-fiction action, there is M Night Shyamalan's After Earth.
The film features real life father-son duo Will Smith and Jaden Smith in the lead. It revolves around teenager Kitai Raige (Jaden) and his legendary father Cypher (Will), who crash land on Earth, 1000 years after cataclysmic events forced humanity to abandon the only home they knew. With Cypher critically injured, Kitai embarks on a journey to signal for help in a hostile terrain where everything has evolved to kill humans.
Shyamalan is all praises for the cast. Talking about Will and Jaden, the US based Indian origin director says that the two are "very professional".
"They were great. They are a fun family. They are entertaining to be around. They are very professional and meticulous on the shoot. It was a great experience for everybody," said Shyamalan.
Apart from these, two other films will also hit the screens today, which are Hollywood crime fiction Now You See Me and Hindi film Kyun Hua Achanak respectively.
(With IANS and PTI inputs)
New Delhi:
It's Bollywood versus Hollywood at the box office today with big ticket outings from both industries such as
Yamla Pagla Deewana 2
and
After Earth
respectively up for release.
Firstly, to face the music at the ticket windows is director Sangeeth Sivan's Punjabi
tadkaYamla Pagla Deewana 2
, a sequel to director Samir Karnik's 2011 hit
Yamla Pagla Deewana
.
An action-comedy, the film has been produced by veteran actor Dharmendra, who features in the film along with his the sons, Sunny Deol and Bobby Deol. Actresses Neha Sharma and Kristina Akheeva feature as the female leads. The film has been shot mainly in Britain.
Dharmendra has also turned a rapper for the title track of the film. Talking about his credit in the music video of the same, Neha said, "Dharam
ji
was the youngest Deol on the sets during the making of this song. The coolest things to do were given to him. He has these hot ladies sitting around him in the video, which is a cute moment."
Having self-confessed that the Deols are laidback when it comes to pr and marketing in the industry, Dharmendra feels that a film's promotion today requires more effort than its making. "Nowadays, it has become a trend that more and more pressure and effort is put on a film's release rather than on its making," he said.
If you're up for some post-apocalypse science-fiction action, there is M Night Shyamalan's
After Earth
.
The film features real life father-son duo Will Smith and Jaden Smith in the lead. It revolves around teenager Kitai Raige (Jaden) and his legendary father Cypher (Will), who crash land on Earth, 1000 years after cataclysmic events forced humanity to abandon the only home they knew. With Cypher critically injured, Kitai embarks on a journey to signal for help in a hostile terrain where everything has evolved to kill humans.
Shyamalan is all praises for the cast. Talking about Will and Jaden, the US based Indian origin director says that the two are "very professional".
"They were great. They are a fun family. They are entertaining to be around. They are very professional and meticulous on the shoot. It was a great experience for everybody," said Shyamalan.
Apart from these, two other films will also hit the screens today, which are Hollywood crime fiction
Now You See Me
and Hindi film
Kyun Hua Achanak
respectively.
(With IANS and PTI inputs)