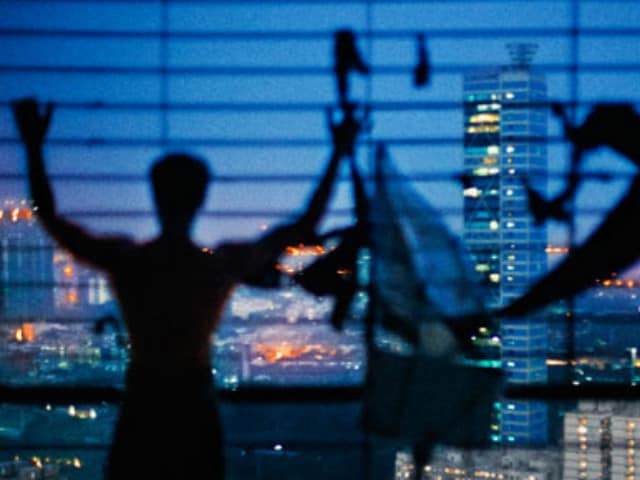 Highlights
Trapped was shot in 22 days in real locations at Mumbai
Trapped has been directed by Vikramaditya Motwane
The film premiered at 18th Jio MAMI Mumbai International Film Festival
Mumbai:
Filmmaker Vikramaditya Motwane's latest film
Trapped
, starring Rajkummar Rao, which had its world premiere at the
18th Jio MAMI Mumbai International Film Festival
, received a standing ovation.
The film is a survival-drama-thriller about a guy, played by Rajkummar, who gets trapped in his own house at a high rise building with no escape route.
The 105-minute long film received thundering applause and when Mr Motwane and the
Aligarh
star came forward for an interactive session, they were welcomed with a standing ovation.
Mr Motwane, who returns to the big screen after his 2013 romantic drama
Lootera
, joked that this was his "first ever housefull" and credited the film's writer Amit Joshi for approaching him with the subject.
"I thought it was such a cool concept, why hasn't anyone thought about it before, why hasn't a film made on this topic especially in a city like Mumbai? We have high rises and all, the place is warm but is also so cold. As people, we can be unforgiving about these kind of things. The idea just grabbed me. I kept thinking about the film," Mr Motwane said.
The filmmaker then pitched the idea to
Rajkummar
, who instantly agreed to do the film, which Mr Motwane said, also came out of anger, as he was doing other things which couldn't take off.
To prepare for his role, the actor survived on coffee and carrots.
"I was surviving on very little food. Probably coffee and carrot. But it was a great experience as an actor. This was something I always wanted to do. I am a big fan of survival dramas like
Cast Away
,
Buried
or
127 Hours
. I was after his life since
Udaan
. I wanted to play the main guy but he said no you look older. Then for
Lootera
, he said we will do something else. Then finally he told me this is the plan and I kept calling him," he said.
The film was shot in 22 days in real locations at Mumbai.
(This story has not been edited by NDTV staff and is auto-generated from a syndicated feed.)