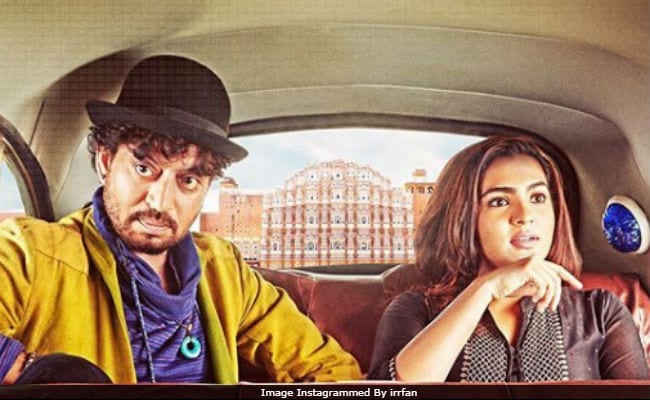 Cast: Irrfan Khan, Parvathy, Bajrangbali Singh, Neha Dhupia

Director: Tanuja Chandra

Genre: Comedy, Romance

Rating: 3 Stars Out of 5


A light-hearted traipse through loves lost and lives interrupted, Tanuja Chandra's
Qarib Qarib Singlle
- yes, it is single with double 'l' - isn't anywhere near
qarib qarib
perfect. But give or take a few stray missteps, it is an elegantly crafted, languidly paced film that puts a delightfully off-kilter, mellow spin on the conventions of the rom-com. In fact, given its unusual narrative arc in which nothing seems to be happening by way of overt action and plot progression,
Qarib Qarib Singlle
is a difficult film to slot in any single genre.
Buoyed by two contrasting but highly effective lead performances from Irrfan and Parvathy, the film, despite the obvious pacing issues, weaves a free-wheeling tale around a trip that two lonely hearts undertake after they meet via a dating site and begin a tentative relationship over cups of latte in a Mumbai cafe. Temperamentally, they are polar opposites and the drama, whatever little there is of it, is sparked by the big and small contrasts that inform their approaches to life and love.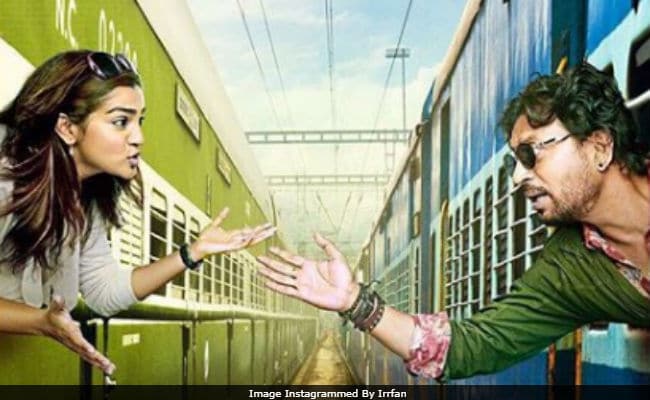 The screenplay (by Tanuja Chandra and Gazal Dhaliwal, also the dialogue writer) is neither whippy nor trippy. If you are looking for a dizzying ride, it does not offer one. Qarib Qarib Singlle hinges on a whimsical, occasionally witty but always sedate construct. It does not hustle the two central characters into set-piece situations designed to place their innermost thoughts under the glare of a flash-torch or serve to fulfil standard audience expectations. It oftentimes wanders off on a detour, especially in the middle portions of the second half, and that could be disorienting for some.

If you survive that bump, you will notice that the film does not take recourse to any sort of emotional manipulation. It lets the twosome stumble along, adventurously and completely non-judgmentally, as they travel from one place to another in search of their past - and, hopefully, of their future. That creative strategy yields a romantic comedy variant in which neither the romance nor the comedy is served in big, crowd-pleasing scoops.

It is delivered instead in small doses as the unlikely pair sets off across the country to meet the man's old flames who, he cockily believes, are still pining for him. The voyage by air, rail and road takes them to Rishikesh, Rajasthan and Sikkim and culminates on a ropeway dangling over Gangtok. Has any Hindi film in living memory, or any memory at all, ever ended in Gangtok?

What Qarib Qarib Singlle lacks by way of zest and zing - it isn't that the film is looking for either of these two attributes - it makes up with an expansive approach to an evolving, inchoate relationship that has neither a defined curve nor a designated destination. The film's mild twists are only markers for endings and beginnings that are intimations, at best, of new possibilities, especially for the ever-interesting female protagonist. She isn't an average singing, dancing damsel desperate to cling on to the first man who comes her way. She is a woman who has seen enough of life not to be unduly intimidated by boredom and monotony.

The heroine is a reticent Jaya Sasidharan (Parvathy), a young widow who has moved on since the death of her army man husband a decade ago and immersed herself in her health insurance career. She is doing perfectly well for herself but she is, at the behest of her brother (Siddharth Menon), a university student we see only in the course of Skype chats, is still looking for a way of starting over.


The hero is an effusive, garrulous Yogi (Irrfan), a small-time poet who has loved and lost three women since the time he was in high school, but hasn't allowed heartbreak to deflect him from his merry, impulsive ways.
The two hook up and, on the spur of the moment and against Jaya's own best counsel, go on a journey to meet Yogi's girlfriends - Radha (Pushtiie Shakti), Anjali (Neha Dhupia) and Gauri (Isha Sharwani) - but it turns out to be a voyage of discovery that holds the promise of helping them get to a better place than the ones that they have been in all these years.
Jaya, in her mid-30s, is methodical in her approach, hates surprises and isn't a woman of many words. Forty-year-old Yogi is glib and carefree and holds forth on everything from the 'rocket science' of making raita to the many virtues of
chatori mathri
. He misses a flight. He boards a wrong train. But nothing ever seems to fluster him. The former needs pills in order to fall asleep, the latter dozes off and begins to snore in the middle of voice calls. Yogi's endless chatter frequently gets on Jaya's nerves, but her annoyance subsides soon enough and gives way to acquiescence.
There is a point in the film when just a suggestion of desire, too, sneaks into the equation, but it does so in very subtle ways and does not manifest itself in outright physical displays of affection.
Qarib Qarib Singlle
isn't a film about falling in love and going cuckoo. It is more about two somewhat cynical and totally dissimilar individuals shedding their reservations about having another go at life.
For Irrfan,
Qarib Qarib Singlle
is a veritable breeze. He cruises through the film with customary elan without breaking a sweat. His comic timing is at its scintillating best. Malayalam cinema star Parvathy, in her first Hindi role, brings easy charm and intelligence to bear upon the character of Jaya. She fills every frame with a warm glow.
Talking of the frames, a mention of the work of director of photography Eeshit Narain is in order. His lighting and visual compositions, striking in the depth that they manage to create even in closed spaces, lends a distinct look and feel to the film. The frames aren't uniformly illumined. Nor does the camera focus solely on faces. Narain creates angular, evocative images that thrive on an interplay of light, shade and shadows.
The unhurried rhythm of
Qarib Qarib Singlle
might put off average filmgoers but if you see value in a film that breaks away from norm and derives strength from understatement rather than flashy storytelling methods, your search ends here.