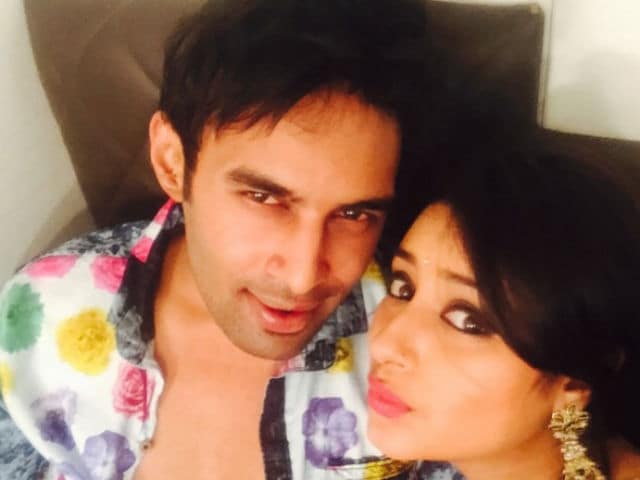 Highlights
Kamya Punjabi said that Pratyusha had told her that Rahul was 'cheating'
Vikas said that Rahul's ex-girlfriend Saloni used to 'assault' Pratyusha.
"Pratyusha wanted to file a case against Rahul," said the actress' lawyer
Mumbai:
In the case of the alleged suicide of television actress Pratyusha Banerjee, her friends claimed that her boyfriend Rahul Raj Singh "cheated on her" and used to "slap" her in public as well as in parties.
The 24-year-old
Balika Vadhu
star was found dead at her home in suburban Goregoan in Mumbai on April 1, in a suspected case of suicide.
In a joint press conference in Mumbai, Pratyusha's friends Kamya Punjabi and Vikas Gupta claimed that Mr Singh was cheating on her and that they were in a "messy relationship." (Also Read:
Pratyusha Banerjee, Rahul Looked Very Much in Love, Says Arbaaz Khan
)
"Some days ago, she called me and said that Rahul is cheating on her. Three or four days ago, when I got a call in Delhi, I told her that I'll come and sort out everything. She said that she can't live like this anymore and wanted to get out of this relationship. She said that she needed help," said Kamya.
"I told her that we will meet on April 4 and if she wants, she can stay at my place. Then she called our common friend Leena and said 'I want to fight back,' " she added.
Vikas, who is a producer, claimed that Pratyusha did not want to "give up" on the relationship.
"She was in a messy relationship. She didn't want to come out of it thinking 'I don't want people to think I am in a relationship and now I am getting out of it.' She didn't want to give up," said Vikas.
Vikas also claimed that Mr Singh's ex-girlfriend Saloni Sharma allegedly used to assault Pratyusha in his absence.
"Saloni Sharma used to visit her and assault her. She used to give threats to Pratyusha because of which she was disturbed too. When Pratyusha used to tell Rahul about this, he used to switch off his phone and not visit her," said Vikas.
"Pratyusha wanted to file a case against Rahul. She called a lawyer and then she wanted to speak to her (lawyer) the day the incident took place. On the very same day, she had an appointment with the lawyer and she had told many things about Rahul and finances and wanted to seek legal advice. Pratyusha wanted help legally because she was getting tortured some way or the other," her lawyer in the suicide case Falguni Brahmabath, who was also at the press conference, alleged.
Kamya and Vikas also claimed that Mr Singh used to publicly "slap" Pratyusha in public as well as in parties and many of her friends had witnessed it. Kamya and Vikas said they are ready to give a statement to the police in this regard but they have not been called yet.
Mr Singh's statement was recorded by the Police on Sunday. He was hospitalised on the same day after he complained of breathing problems.
Mr Singh's parents have claimed that Pratyusha was under financial stress and Vikas said that the only thing worrying Pratyusha was problems in her personal life.
"Pratyusha was a very middle class girl who wanted simple things. She wanted to get married and settle down. If she was getting those things, then I don't think she would've gone anywhere. If Rahul says that they had a perfect life and no issues in relationship, then she wouldn't have died," added Vikas.
Vikas added that he had offered Pratyusha a new show and she was doing well professionally.
"Reasons of financial crisis behind her suicide are nonsensical. Pratyusha Banerjee charges more than a lakh for a cameo. There was no financial problem. This is idiocy of a big level where some people are claiming that Pratyusha was depressed," said Vikas.
Kamya claimed that injury marks were found on Pratyusha's body and alleged that "the suicide theory had loopholes."
"There are injury marks on the body and a grave wound on her nose. If she was hanged, then those marks wouldn't have been there. She was five feet and could not have hung herself to a ceiling which is 10 feet high," said Kamya.
"Pratyusha's parents are going to pursue a case against Rahul. If she was pregnant, she would've been alive. The death certificate does not mention that she was pregnant," Vikas claimed.
Leena Dias, a common friend of Pratyusha and Mr Singh, who claims to be 'rakhi sister' of Rahul, alleged that a day before the incident, Pratyusha had called her and said that Saloni was torturing her and she wanted to get out of the mess.
"Around 3 AM, a day before her (Pratyusha's) death, she (Pratyusha) called me and was crying. She said 'I want to get out of these things.' Whatever is happening with me is wrong. I asked her what exactly is it? Saloni used to torture her and attack her in Rahul's absence. She told me 'I want to fight back, I can't stay like this. I want to sort out these things and come out of this,' "Leena claimed.