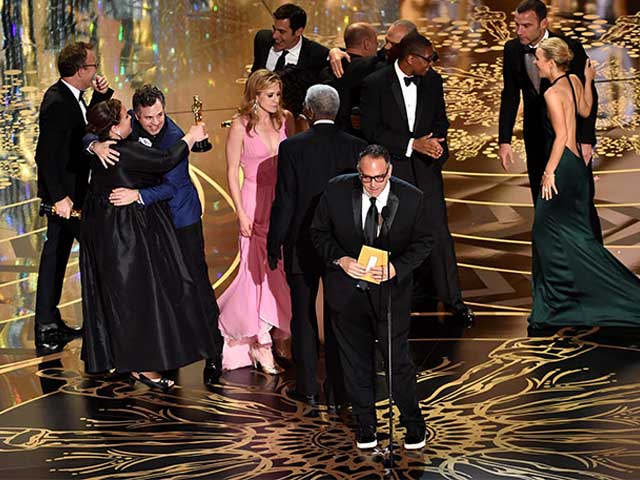 Washington:
As expected, this year's Oscars ceremony had diversity jokes to spare and a big win for Leonardo DiCaprio. Here are 16 things you missed from the show:
1)
Spotlight
won a couple awards - including the biggie.
The journalism drama was nominated for six awards and won two, for best picture and best original screenplay. While the movie that wins best picture is often the one that also wins best director, that wasn't the case this year. Alejandro Inarritu won for his direction of
The Revenant
, but
Spotlight
director Tom McCarthy shared the writing Oscar with Josh Singer.
2)
Mad Max: Fury Road
won a bunch of awards -- in technical categories.
George Miller's operatic action movie
Mad Max: Fury Road
nearly swept the technical awards, raking in six prizes, for costume design, sound editing, sound mixing, makeup and hair, production design and film editing. The movie was singled out so many times that Louis CK jokingly announced it as the winner for best documentary short.
3) Lots and lots of jokes from Chris Rock about the lack of diversity.
In fact, the host had very few jabs that weren't about #OscarsSoWhite. Rock jumped right in by referring to the show as the White People's Choice Awards. In his comment that drew the most gasps, he noted that when there were no black Oscar nominees in the 1960s, no one cared. Why? "Because we had real things to protest at the time," Rock said. "We were too busy being raped and lynched to care about who won best cinematography. When your grandmother is swinging from a tree, it's really hard to care about best documentary foreign short."
He also took a shot at Jada Pinkett Smith boycotting the show and urging others to do the same: "Jada got mad. Jada says she's not coming ... Jada boycotting the Oscars is like me boycotting Rihanna's panties. I wasn't invited."
After all the talk about diversity, toward the end of his show, Rock made an Asian stereotype joke -- and many people weren't pleased.
4) A bizarre Stacey Dash appearance
Previously, Dash was best known for her role as Dionne in beloved teen movie "Clueless." In the last couple of years, she's become known as a controversial Fox News contributor who recently declared that Black History Month shouldn't exist. So Chris Rock brought her out for a bit where he introduced her as the new director of the academy's minority outreach program. Dash walked on stage, smiling brightly and laughing. "I cannot wait to help my people out. Happy Black History Month!" Cue awkward, flat reactions from people in the audience -- because it's unlikely many people knew who she was or what she was doing there.
5) Leonardo DiCaprio finally won his elusive acting Oscar.
After all these years, you can finally say "Oscar winner Leonardo DiCaprio." The actor nearly died trying to film "The Revenant," so maybe the Academy wanted to give him an award before he seriously hurt himself next time. Either way, DiCaprio was thrilled, though he ended his acceptance speech on a downer note about climate change.
6) Lady Gaga had the most powerful moment of the ceremony.
The singer let loose with a bombastic performance of "Til It Happens to You," the best song nominee from the film "The Hunting Ground," about sexual assault on college campuses. Joe Biden introduced her with an impassioned plea to help sexual assault victims: "We must and we can change the culture so that no abused woman or man, like the survivors you will see tonight, ever feel they have to ask themselves 'What did I do?' They did nothing wrong."
Afterwards, a group of sexual assault victims stood with Lady Gaga at her piano. Hands raised, they had words written on their arms like "it happened to me" and "not your fault," providing one of the most moving moments of the night.
7) Things got kind of raunchy.
If there was any pretense that the Academy Awards are some kind of staid and classy ceremony, it was quickly ditched by a merkin joke from Jared Leto and Sarah Silverman's bizarre introduction for Sam Smith's best song performance, in which she made reference to her "heavy Jewish boobs." And that was before Sacha Baron Cohen's alter ego, Ali G, took the stage to make a groan-worthy crack about "little yellow people with tiny dongs." (He was referring to "Minions.")
8) Alejandro Inarritu and Emmanuel Lubezki are on a roll.
For the second consecutive year, Inarritu won the Oscar for best directing. (Last year, it was for "Birdman.") That means the Mexican director is now part of an exclusive club, along with back-to-back winners Joseph L. Mankiewicz ("A Letter to Three Wives," "All About Eve") and John Ford ("The Grapes of Wrath," "How Green Was My Valley").
Lubezki, meanwhile, has won three in a row for cinematography. Inarritu's collaborator also won for
Birdman
last year; the year before he was celebrated for
Gravity
. He's the first cinematographer to win back-to-back-to-back, though two other cinematographers have still hold the record for the most wins: Leon Shamroy and Joseph Ruttenberg won four.
9) Chris Rock sold Girl Scout cookies and people got really excited.
Being a good dad, Rock just wanted to help his daughters sell a few more cookies.
10) Twitter fact-checks Sam Smith.
While accepting his award for best original song for
Writing's On the Wall
from
SPECTRE, British singer Sam Smith incorrectly quoted a statistic from Ian McKellen about how no openly gay man had ever won an Oscar. "If this is the case, and even if it isn't, I dedicate this to the LGBT community around the world. I stand here tonight as a proud gay man," Smith said. Immediately Twitter lit up to correct him -- McKellen was talking specifically about the best actor prize.

11) What about Abe Vigoda?

The in memoriam interlude routinely leaves people out. This year the touching tribute forgot, among others, Vigoda, who died in January. The Godfather actor was nominated for three Emmys for his role on the television show Barney Miller.

12) Louis C.K. is the best presenter.

Before presenting the documentary short prize, Louis C.K. schooled everyone about the fact that for many nominees in the room, their nomination isn't that big of a deal -- after all, they're still millionaires. However, for documentary short, it's different.

"These people, this is documentary short film. It's not even documentary feature. You cannot make a dime on this. These people will never be rich as long as they live," he joked. "So this Oscar means something because all they do is tell stories that are important ...They're going home in a Honda Civic. This Oscar could be the nicest thing they ever own in their life.

13) There were lots of ladies in glasses.

14) And the gif of the night award goes to. ...

Tom Hooper! For his awkwardly sheepish stutter wave when best supporting actress winner Alicia Vikander asked from the stage, "Where's Tom? Where's my director?"

15) What people really think of the nominees.

One of the most amusing and incisive bits of the evening came when Chris Rock said he visited a theater in Compton (though Compton doesn't have a movie theater so it was somewhere else) to ask black moviegoers what they thought of the Academy Award nominees. None of the people Rock talked to had seen Spotlight,Brooklyn or Bridge of Spies. And, in fact, one woman was convinced that Rock was just messing with her. "Where are you getting these movies from?" she asked. "You're making up some, right?"

16) And the winner is Mark R...ylance.

It seemed like Sylvester Stallone had the best supporting actor category on lock, what with his buzzy revisiting of the role of Rocky Balboa in Creed. Instead, renowned theater actor Mark Rylance won the award for his part in Steven Spielberg's Bridge of Spies. But if anyone was surprised, probably no one was more so than Mark Ruffalo, whose name -- at least the first part -- has a lot in common with the winner's. Viewers were scouring Ruffalo for some sign of momentary recognition before the disappointment settled in. Who knows what the actor was really thinking.(This story has not been edited by NDTV staff and is auto-generated from a syndicated feed.)