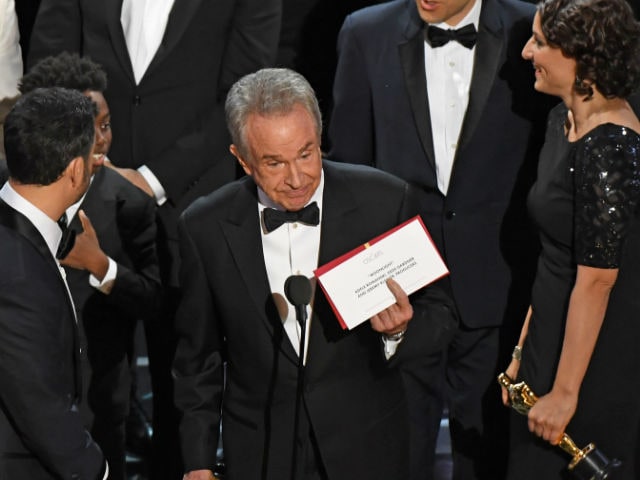 Highlights
Pandemonium broke out in Dolby Theatre after the Best Film goof-up
'Warren will want to BEAT someone,' read Karan Johar's tweet
'Warren Beatty was blinded by the whiteness of La La Land,' read another
New Delhi:
We knew, or should have known, there was something up
at the 89th Academy Awards
when Warren Beatty, presenting the final Oscar for Best Film, opened the envelope he'd been given and gazed at his co-presenter, his Bonny And Clyde co-star Faye Dunaway, in bemused incomprehension. She took it from him and read the name of the film out -
La La Land
. It was
La La Land
's seventh Oscar, except that it wasn't.
Moonlight had actually won
and the mistake was not corrected until the producers of La La Land had begun their vote of thanks.
Moonlight
, director Barry Jenkins' drama of a young black man discovering and dealing with his homosexuality, is this year's Best Film. Not
La La Land
, the much-awarded musical starring Ryan Gosling and Emma Stone, who won Best Actress. It was the most dramatic of endings to what is
Hollywood's biggest award show
, the highest validation that actors aspire to.
Pandemonium broke out in Los Angeles' Dolby Theatre, the Oscar venue, and on social media which instantly drew parallels with Steve Harvey's announcement of the wrong Miss Universe winner last year. "What did you do?" host Jimmy Kimmel asked Mr Beatty, 79, who apologized. He didn't really need to though. Despite the jokes on Twitter, it appears that neither Warren Beatty nor Faye Dunaway are to blame - they were given the wrong envelope.
Be that as it may, the mocking is brutal. Even Karan Johar, Rishi Kapoor and Shabana Azmi got quips in:
Warren will want to BEAT someone! And Faye just faded away! #Oscars

— Karan Johar (@karanjohar) February 27, 2017
OSCARS. Shit happens at Oscars too!

- Rishi Kapoor (@chintskap) February 27, 2017
What?!! I just cant believe what happened at the Oscars !!!

- Azmi Shabana (@AzmiShabana) February 27, 2017
The Steve Harvey comparison was too delicious for Twitter to ignore - even the Miss Universe handle tweeted:
Have your people call our people - we know what to do. #Oscars#MissUniverse

— Miss Universe (@MissUniverse) February 27, 2017
At first I thought they were pulling a Kanye West but then I realized they were pulling a Steve Harvey and my whole world was shook #Oscars

— Sebastian Pinto (@phsebastianph) February 27, 2017
The mocking was merciless:
It's not Warren Beatty's fault he was blinded by the whiteness of La La Land's cast and couldn't read the cue card #Oscars#BestPicture

— Mark Tseng Putterman (@tsengputterman) February 27, 2017
Warren Beatty and Faye Dunaway trying to leave the Dolby Theatre #Oscarspic.twitter.com/RQaitMhmp4

— George Mann (@SGFMann) February 27, 2017
Rumor: Leo DiCaprio never gave Emma her envelope when she won and it somehow got into Warren Beatty's hands. Didn't he see it was unsealed?

— Brian Dorman (@BDormanTV) February 27, 2017
There was some sympathy for Warren Beatty, particularly from former Oscars host Neil Patrick Harris:
I feel bad for all involved: Warren, Jimmy, Marc Platt and the incredible La La Land team. That said, congrats to Moonlight. It's brilliant.

— Neil Patrick Harris (@ActuallyNPH) February 27, 2017
The person who gave Warren Beatty the wrong envelope must have been living in La La Land. #Moonlight wins best picture. #Oscars#Oscars2017

— Ryan McBride (@RyanPMcBride) February 27, 2017
#Oscars#WarrenBeatty is a class act and doesn't deserve to be embarrassed.

— Vivek Jaiswal (@vivekjaiswalny) February 27, 2017
I love Warren Beatty realizing what was happening and just handing the card off, yet still ultimately taking the blame anyway

— Pete Blackburn (@PeteBlackburn) February 27, 2017
Not sure why Warren Beatty is getting killed when he clearly realized something was wrong and wasn't even the one who said La La Land

— Ryan Ginn (@rmginn) February 27, 2017
Even the Academy Twitter handle was fooled and tweeted La La Land as Best Film winner before correcting to Moonlight.
Mr Beatty apparently made amends by showing Moonlight director Barry Jenkins the correct envelope later:
Barry Jenkins said backstage that Warren Beatty brought him the card that said BEST PICTURE: MOONLIGHT on it so he could read it for himself

— Rebecca Ford (@Beccamford) February 27, 2017
Consolation prizes in this whole sorry mess -
La La Land
won six Oscars in all, including Best Director for Damien Chazelle who, at 32, is the youngest winner of the award. And John Travolta must be feeling pretty damn pleased that someone else's Oscar flub has eclipsed his 'Adele Dazeem' goof-up while introducing singer Idina Menzel a couple of Oscars ago.
Moonlight
also won Best Supporting Actor for Mahershala Ali and Best Adapted Screenplay.