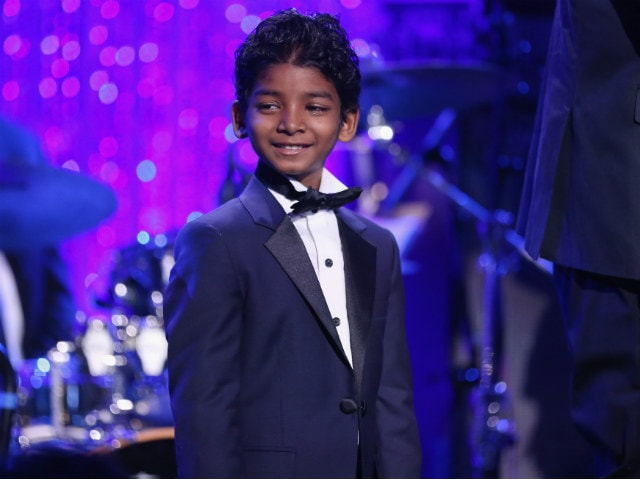 Highlights
'Spoke to Sunny before he went for the awards,' said his mother
'He didn't sound nervous,' she added
Sunny Pawar made his Oscar debut at the 89th Academy Awards
New Delhi:
Child actor Sunny Pawar, 8, was one of the stars
at the 89th Academy Awards
. Millions watched him pose with actor Andrew Garfield on the Oscar red carpet and recreate a scene from The Lion King with host Jimmy Kimmel - except for his family back home in Mumbai, reports
mid-day
. Sunny, who appears in Oscar-nominated film
Lion
, is a resident of a slum in Santacruz, Mumbai, where a two-room house accommodates his family comprising his parents, two grandmothers, uncles, siblings and cousins, reports
mid-day
. A faulty cable connection reportedly prevented them from watching him at the Oscars, where he was accompanied by his father. In an interview with
mid-day
, Sunny's mother Vasu said that she had a phone conversation with him on the morning of the Oscars and that he wasn't nervous. Sunny Pawar features as the younger version of the character played by actor Dev Patel in
Lion
.
When asked about the Oscars
, Sunny's mother said they missed the show because of a disrupted cable network but hope to catch up soon. "I spoke to Sunny in the morning briefly, before he went for the awards. He didn't sound nervous. His father told me which channel to watch it on, but I missed it due to the faulty cable connection. We live in a joint family, so we will sit together and watch the awards function again, hopefully soon," she told
mid-day
.
Sunny's mother said that their phone has been ringing incessantly since the morning after the Oscars. Meanwhile, Sunny is travelling for promotional duties of his film
Lion
, with his father Dilip Pawar. "The world might say he is a celebrity, but for me, he is my baby. Our phones haven't stopped ringing since morning. I am missing him more today. He sounded overwhelmed when we last spoke. I think he's beginning to get homesick," Sunny's mother told
mid-day
.
Team
Lion
are expected to organise a trip to the US for the child actor's entire family, said Sunny's mother. "But we will, very soon. Sunny's father told us the producers are arranging for the entire family to go to the US. It'll be our first trip abroad," she told
mid-day
. When asked about Sunny's popularity in Hollywood, as was evident at the Oscars, she told
mid-day
, "They love his simplicity. It's no surprise that the world finds him affable."
She also credited Dev Patel for helping Sunny
with grooming advice
. "Credit goes to Dev (Patel) and the entire cast. I know he has given him grooming tips, how to fix his bow-tie, and tie shoelaces."
Vasu Pawar also revealed that Sunny starred in
Lion
only after approval from his father. "Everyone has told me he is a great actor. His father didn't want him to do just anything that came his way. (But) He really believed in the story (of Lion). Sunny was always a movie buff.
Singham
and
Krrish
are his favourites," she told
mid-day
.
At the Oscars
, Sunny Pawar was dressed in a suit with sneakers and was a favourite subject of the photographers present.