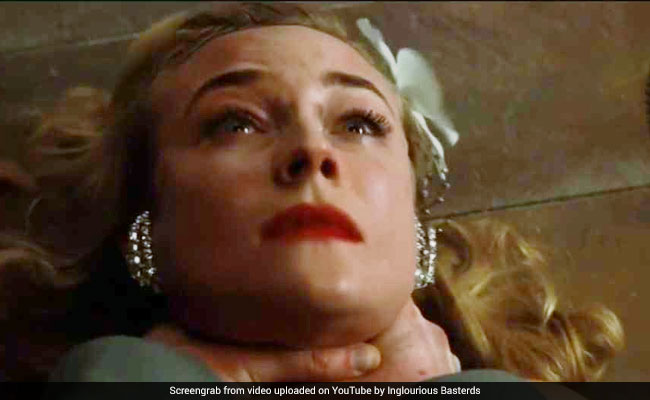 Over the weekend, Uma Thurman opened up to the
New York Times
about
Harvey Weinstein's alleged abuse
, but also shared some shocking stories about her longtime collaborator Quentin Tarantino. What seemed like a successful auteur-muse relationship was, in fact, something more troubling.
In one anecdote - accompanied by harrowing video footage - Thurman recalled how Tarantino forced her to drive a car she knew to be unsafe while shooting a scene for
Kill Bill
. She ended up crashing into a tree, sustaining injuries from which she says she's never entirely recovered. But buried alongside so much horrifying stuff was a curious passage about how, also while shooting that two-part movie, Tarantino stepped in for other actors so he could personally dole out abuse to his lead.
"Tarantino had done the honors with some of the sadistic flourishes himself," according to the story, "spitting in her face in the scene where Michael Madsen is seen on screen doing it and choking her with a chain in the scene where a teenager named Gogo is on screen doing it."
That story feels even more shocking coupled with a similar tale from the set of
Inglourious Basterds
, where he personally strangled actress Diane Kruger during her character's death scene.
Kruger talked about the experience during an interview with Parade in 2009. According to the star, Tarantino claimed that actor Christoph Waltz wouldn't be up to the task - although he went on to win an Oscar for playing the role of Nazi Hans Landa - and that he would apply either too much or too little pressure.
"I know exactly what I need, and I think I should just do it," Kruger recalled Tarantino telling her. "I have to say it was very strange being strangled by the director."
Tarantino didn't dispute her account. In fact, during a sit-down on the Graham Norton Show, the director recounted what it was like to strangle Kruger - to the hysterical delight of the studio audience.
"Now Quentin, you strangled Diane Kruger, didn't you?" Norton asked.
"Yeah, I did," Tarantino responded with a little chuckle. He had his reasons though, he insisted.
"Whenever you do a close-up of somebody being strangled in a film, I never buy it," he said, "because when somebody's actually being strangled there's a thing that happens to their face - they turn a certain color and their veins pop out."
Just then, fellow guest Alan Davies piped up to ask the question that was probably on everyone's mind: "How do you know this, by the way?"
"I guess I don't know that for sure," Tarantino responded. "But I can imagine."
Then he talked about broaching the subject with Kruger.
"What I said to her is, 'I'm going to be the hands, and I'm going to just strangle you, all right?'" Tarantino recalled, while Norton cracked up. "'I'm going to cut off your air, for just a little bit of time, we're going to see the reaction in your face, and then we'll cut, okay?' "
"She trusted me," Tarantino said. The stunt guy would be right there, after all. He pantomimed strangling the actress as he continued, "but also, because I was able to. . . "
But before he could finish, actor James McAvoy deadpanned, "enjoy it?"
Good question.
In an Instagram post today, Thurman defended Tarantino. She reposted a segment of the crash footage and wrote that she didn't believe he had malicious intentions:
"Quentin Tarantino was deeply regretful and remains remorseful about this sorry event, and gave me the footage years later so I could expose it and let it see the light of day, regardless of it most likely being an event for which justice will never be possible," she wrote. "He also did so with full knowledge it could cause him personal harm, and I am proud of him for doing the right thing and for his courage."
(This story has not been edited by NDTV staff and is auto-generated from a syndicated feed.)